How Integrated Smart Controls Aid With Boiler Room Maintenance
Any unexpected downtime can be counterproductive and costly when your boiler room is under pressure to deliver. Even losing steam production for a few hours can completely disrupt your business operations, especially if your boiler room is offline indefinitely.
On top of repair or replacement costs, you'll still have to pay your staff for their time. And to make matters worse, products ruined from unscheduled shutdowns mean having to restart processing from scratch, which can cause backlogs throughout your whole supply chain.
To minimize unforeseen system failures, your boiler operators need a simple, effective way of monitoring your critical steam infrastructure.
An effective control system should:
Provide concise real-time data that helps alert your team of any potential issues before they become a serious problem.
Be easy to use, helping your team monitor steam load and feed water conductivity; this is especially important for any business with fluctuating steam load demands.
In this article, we'll cover how Miura's Control and Monitoring devices can help your team keep your steam boiler systems performing optimally.
Smart Control Devices Facilitate Boiler Room Maintenance and Operations
Miura's modular water-tube boiler system leverage several Smart Controls to streamline boiler room monitoring, maintenance, and operations.
Let's explore each device in more detail to review its benefits, including Miura's smart controls for modular steam boilers.
1. BP Multiple Installation Control Panel
The BP Panel is the core of any Miura water tube boiler system. This device provides a central communication hub for the operational status of the entire system, displaying the status of all connected devices, including boilers, feedwater systems, and water treatment equipment.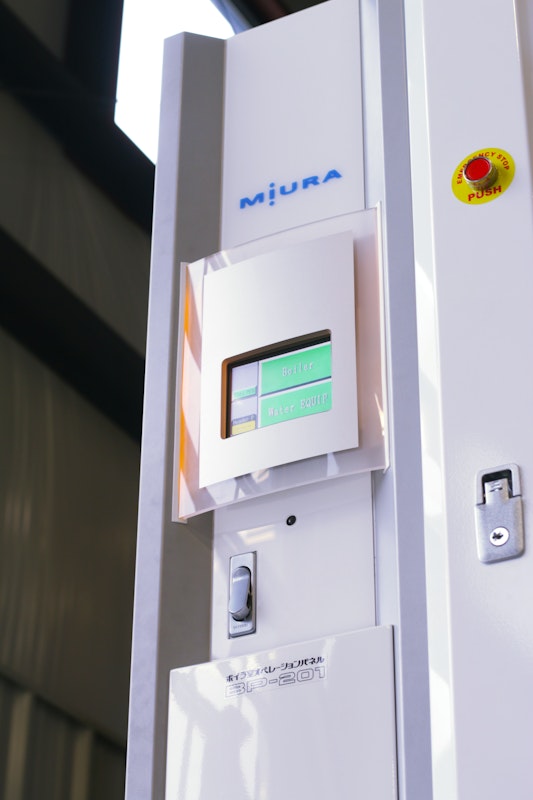 The BP Panel determines the most efficient way of operating multiple boilers while achieving the target pressure for the system as a whole.
It does this by cycling only the boilers required online and offline to produce the current steam demand for fluctuating loads.
An interconnected system helps optimize efficiency and boiler response times. The BP Panel can also prolong the life of the entire system by rotating boiler priority, which helps achieve equal runtime levels across multiple boilers.
In addition, the BP Panel provides centralized safety alerts, such as alarms and cautions, to enable your boiler team to stay alert of any potential issues and mitigate any unexpected downtime.
Watch the video below to learn more about our BP-201 system:
2. BL Controller
BL Controllers are the control interfaces attached to each Miura water-tube boiler. Each BL Controller acts as a microprocessor – think of it as the brain inside each boiler – to control all aspects of the boiler unit.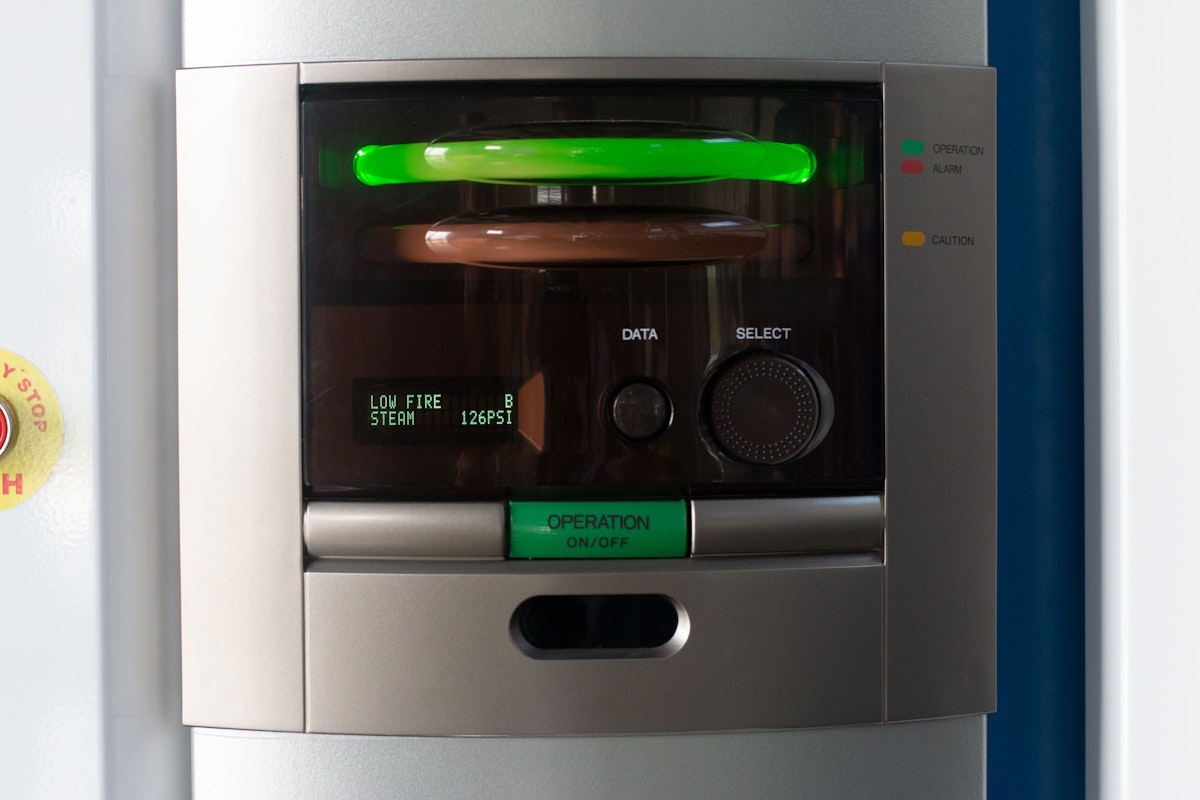 The BL Controller makes it easy for boiler operators to monitor and manage each steam boiler configured in their system.
The panel features an LCD screen that displays current settings and data. Meanwhile, making changes is easily achieved thanks to the simple selector wheel that helps operators navigate the control panel to access necessary information (say goodbye to the phonebook-sized instruction manual!).
This device monitors real-time data through advanced diagnostics, providing instant information about a boiler's condition, including steam pressure and water levels, boiler runtime, scale monitor temperatures, and more.
The BL Controller also oversees each boiler's safety system.
For minor issues, a yellow "caution" light appears on the device display, along with specific information about the fault. But for serious problems, the BL Controller displays a red "alarm" light and can instantly shut down the boiler if it's no longer safe to operate, helping to protect both your operations staff and the system as a whole.
3. EJ-210 Terminal
Each connected BL Controller in Miura's modular water-tube boiler system can interface with the main BP Panel, using its EJ-210 Terminal.
The EJ-210 Terminal enables the BP Panel to control and monitor each boiler in your steam room, giving boiler operators real-time data on individual units while also allowing them to monitor the overall system.
The Terminal essentially acts as a middle man between individual boilers and the central control hub – useful for setups with multiple modular boilers. In this configuration, each boiler's BL Controller is connected to the BP Panel overseeing the entire system via its EJ-210 Terminal, enabling each unit to communicate data and information directly to the main BP Panel.
The interconnectedness between different smart control devices in the boiler room and beyond can be viewed in the diagram below: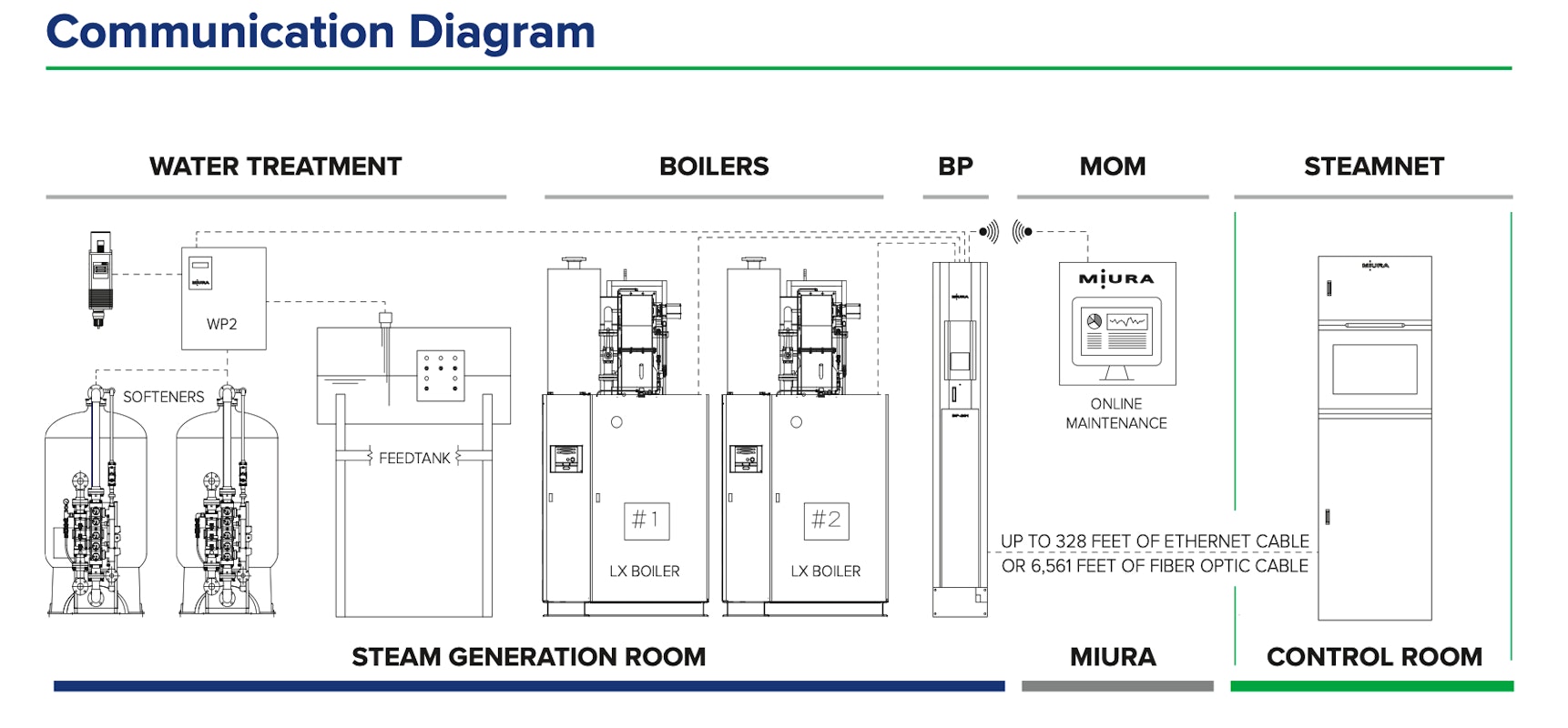 Miura's Smart Devices for the Control Room
1. SteamNet
Few systems are as crucial to a business as its boiler network. And to keep these networks in peak condition, you need an easy way of monitoring your equipment.
SteamNet is a standalone real-time monitoring station for Miura boiler systems, capable of generating reports and graphs that detail how your boilers are performing.
SteamNet consoles utilize a touchscreen interface for ease of use and provide high-level data reports for each piece of Miura equipment in your network.
If your factory or plant has its own Building Automation System (BAS), SteamNet can also become a translator. Using Modbus TCP, SteamNet converts data from your Miura boilers into signals compatible with your BAS.
2. Miura Connect
Miura Connect is Miura's latest innovative offering for steam boiler operators, engineers, and company management. It allows them to remotely monitor their critical steam boiler infrastructure (from multiple boiler rooms if necessary) via any smart device with internet connectivity.
The web-based portal uses the latest IoT technology to retrieve data from a boiler room's connected equipment and send real-time status reports straight to the customer's dashboard.
Text or email notifications are sent to alert relevant personnel of any issues in their boiler room so these can be resolved quickly before causing more severe problems.
On the remote monitoring capabilities provided by Miura Connect, David Vrana, National Manager at Miura America Co. Ltd. recently shared the following in a Today's Boiler article:
"Advanced remote monitoring capabilities can give end-users eyes from almost anywhere, ensuring optimal system reliability. These capabilities offer a sophisticated, knowledge-based analysis of a particular situation, which is crucial to eliminating guesswork while staying on top of day-to-day operations."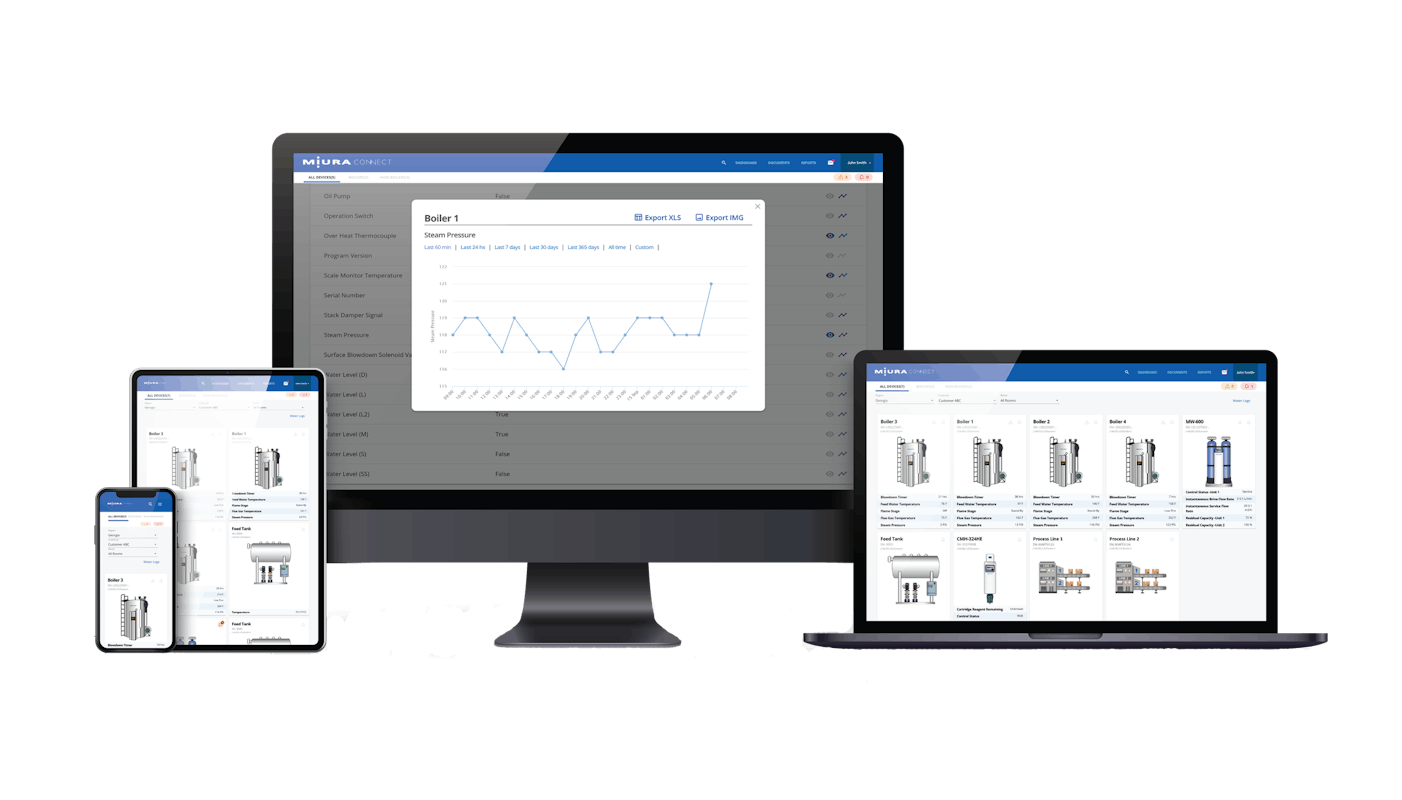 Miura's Smart Devices for Water Treatment Monitoring and Control
1. WP2 Water Treatment Panel
Steam boilers rely on correct water treatment practices to operate at their best. This helps reduce boiler scale, which improves efficiencies and reduces the chance of unplanned downtime.
The WP2 Water Treatment Panel helps your boiler team manage the water treatment for your Miura system.
The device works as a control hub for all the components in this system, integrating with Miura's Colormetry Hardness Detector and Miura's MW dual tank water softeners.
The WP2 Panel detects the incoming water quality levels through constant automated samples from Miura's Colormetry Hardness detector.
The WP2 Panel can automatically control water treatment settings based on this data to provide optimal water treatment for your steam boiler network.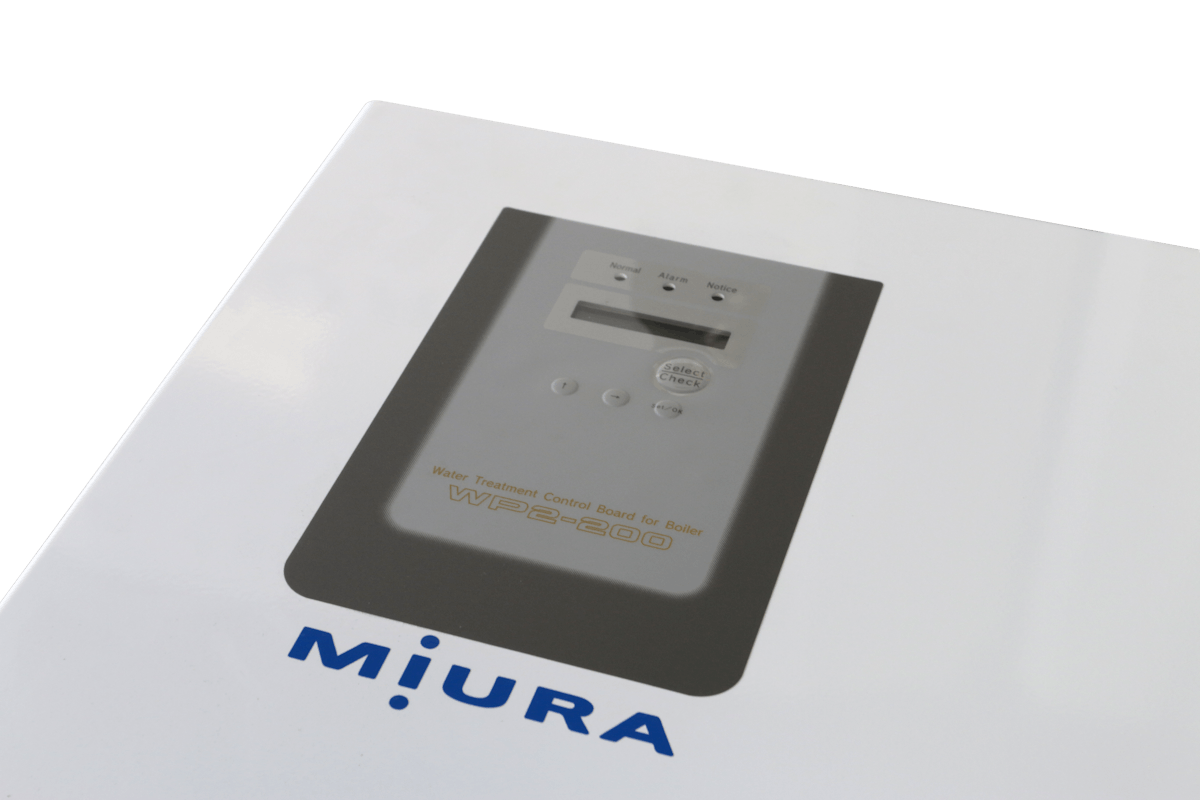 2. Colormetry Hardness Detector
Calcium and magnesium scale deposits left behind by hard water are one of the leading causes of unexpected boiler downtime. To avoid this, your boiler operators need a quick and easy way of determining the hardness of your feedwater supply.
Traditionally, manually determining water hardness is time-consuming and unreliable. That's where a Colormetry Hardness Detector comes in.
Colormetry Hardness sensors help prevent scale buildup, reducing the risk of debilitating and costly shutdowns.
This sensor mixes water samples with a reagent dye before using a laser to match the sample to a water hardness color chart – a bit like a universal pH scale.

Colormetry Hardness sensors can communicate with the BL Controllers for individual boilers to further streamline the process, making it easy for your team to adjust water treatment in real-time when hard water is detected.
This includes automatically increasing surface blow-downs when water hardness is detected, and one of the MW softeners needs regenerating to produce soft water again.
Miura's innovative Smart Control devices provide your Miura steam boiler system with real-time monitoring, intuitive alarms, and proactive automation. These devices help identify potential risks and provide operators with complete knowledge about the system to maintain it properly.
Boiler operators can enjoy peace of mind that they will have the data they need, when they need it, to mitigate any critical system failures.
Contact a Miura Rep to discuss a total Miura solution for your steam plant needs.