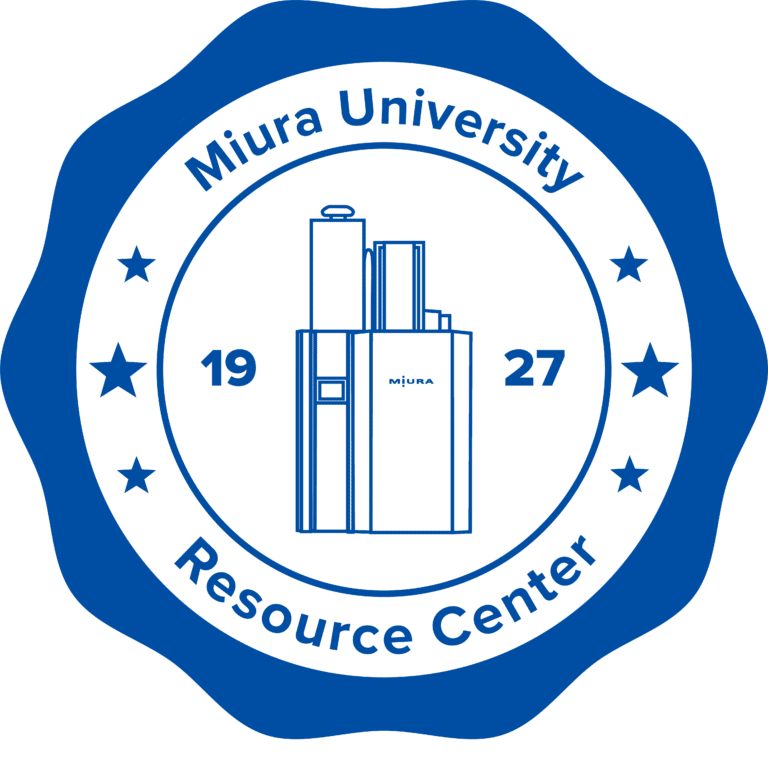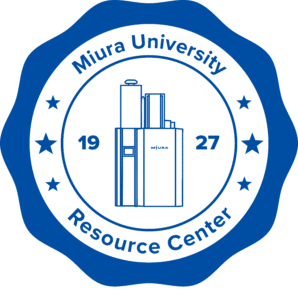 The ultimate guide to the steam boilers of today.
STEAM BOILER CLASS IS IN SESSION
Whether you are a seasoned professional or new to the world of steam boilers, we put together this comprehensive guide for you, covering everything you need to know about steam boilers. From a basic steam boilers 101 guide to more in-depth information and resources about general boiler topics like modular technology, efficiency, maintenance, safety, and emissions — we've got you covered. We'll also provide you with the ins and outs of operating Miura's once-through modular boilers. Finally, we'll discuss the benefits of outsourcing your steam with a partnership model. Let's dive in!
New to boilers? Check out our Steam Boilers 101 guide, which explains the importance of boilers in various industries, how steam boilers work, and what to look for when choosing a boiler system for your facility.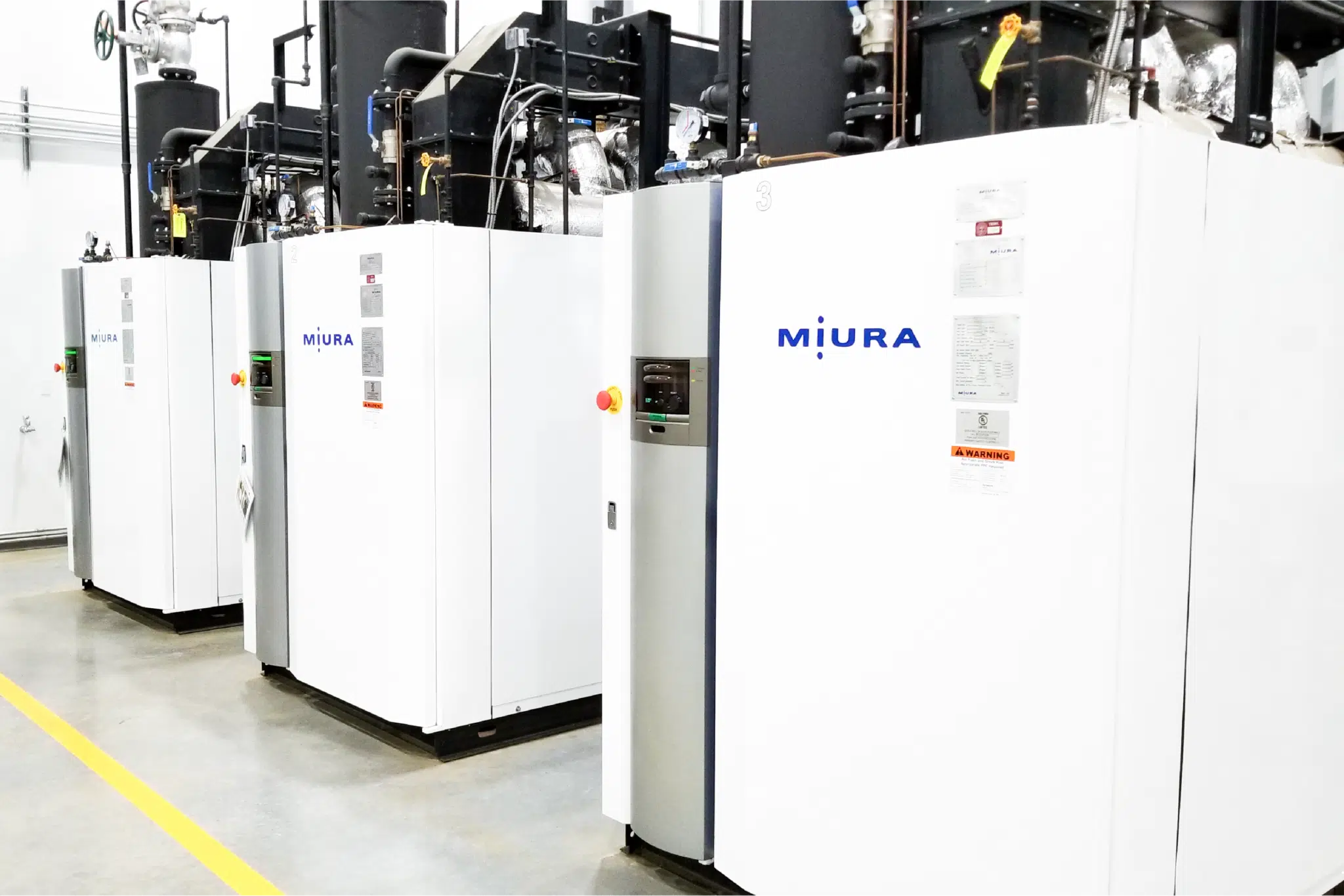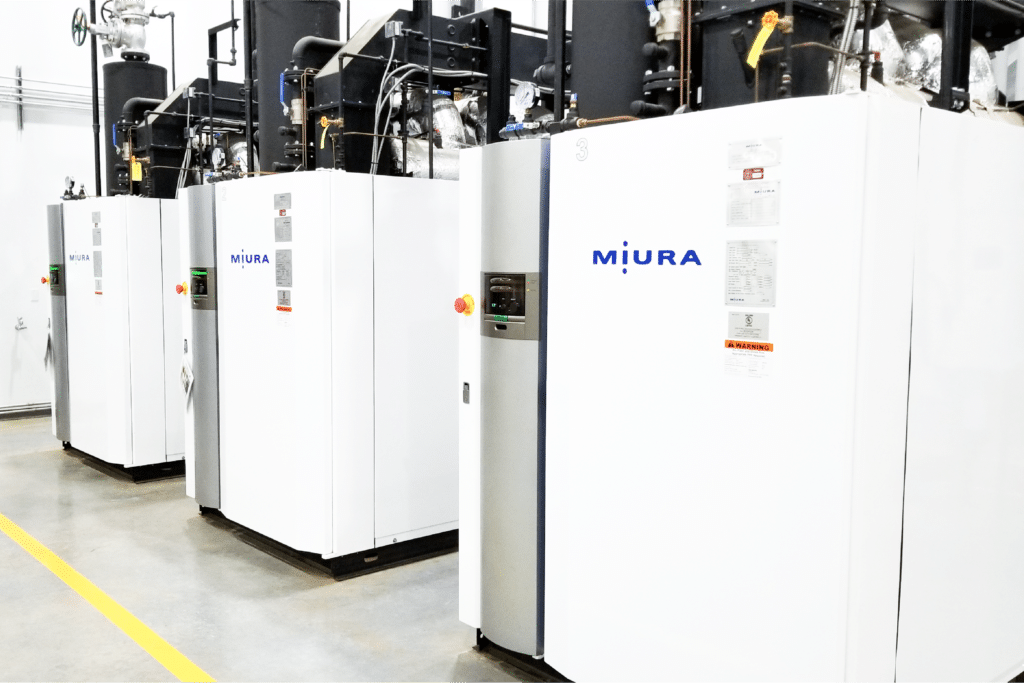 While all boilers use a fuel source to generate heat that boils water to create steam, modular boilers do it a bit differently.  A modular boiler system uses multiple connected units to give you optimal efficiency — whether you are using 25%, 50%, or 100% of total output capacity — and a more compact footprint. To sync the entire system, the  BP Controller intuitively monitors the steam demand at the header to automatically determine the steam amount that boilers need to produce to meet the exact steam demand.
The modular boiler system utilizes only the necessary boilers when the demand is low and fires up more units to meet increasing demand quickly. Automatically placing unneeded boilers on standby, which only uses electricity to monitor the system to reengage when necessary, saves both time and fuel. 
Modular Boiler Systems Hold Numerous Advantages
Learn More About Modular Boilers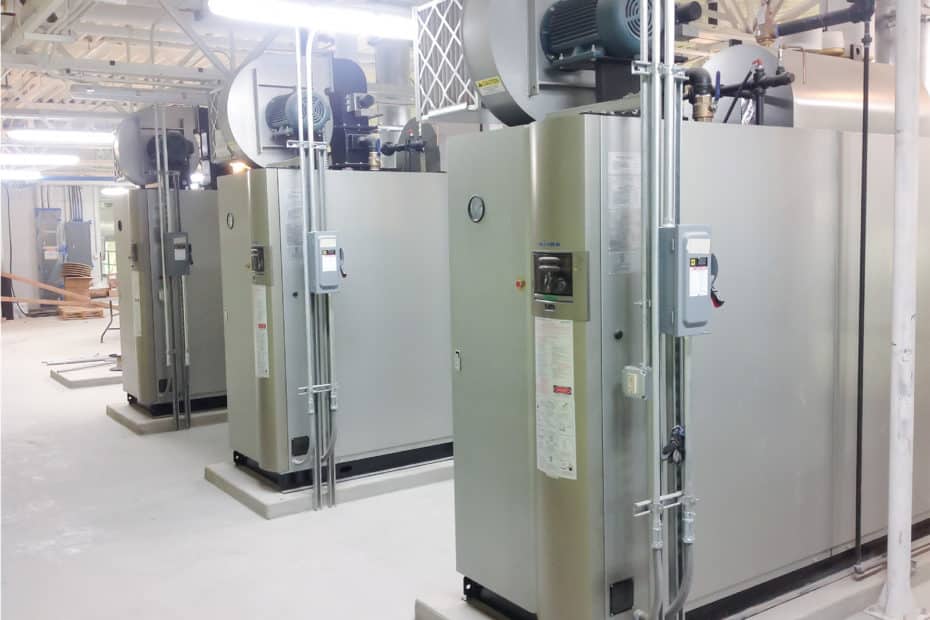 A modular boiler system consists of a group of compact boilers that work together as one to deliver variable levels of steam according to your load demands.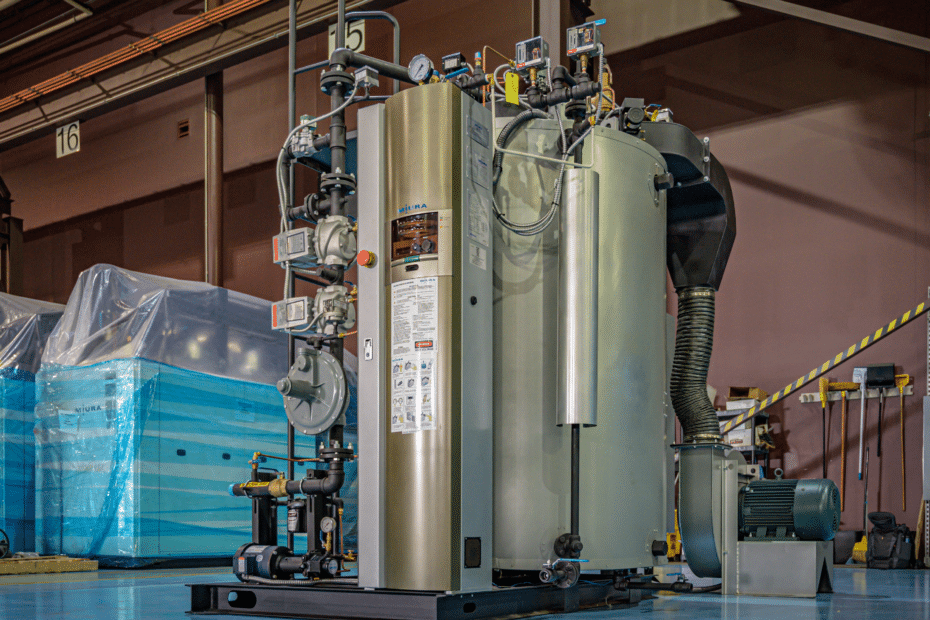 Hospitals, universities, laundry services, food processing services, breweries, factories and more rely on some type of steam boiler system to provide heat and/or hot water for their operations.
Join us for a tour through the Miura America showroom located next to our boiler manufacturing facility. We'll show you how a Total Miura Turnkey Solution with a modular steam boiler system can benefit your organization.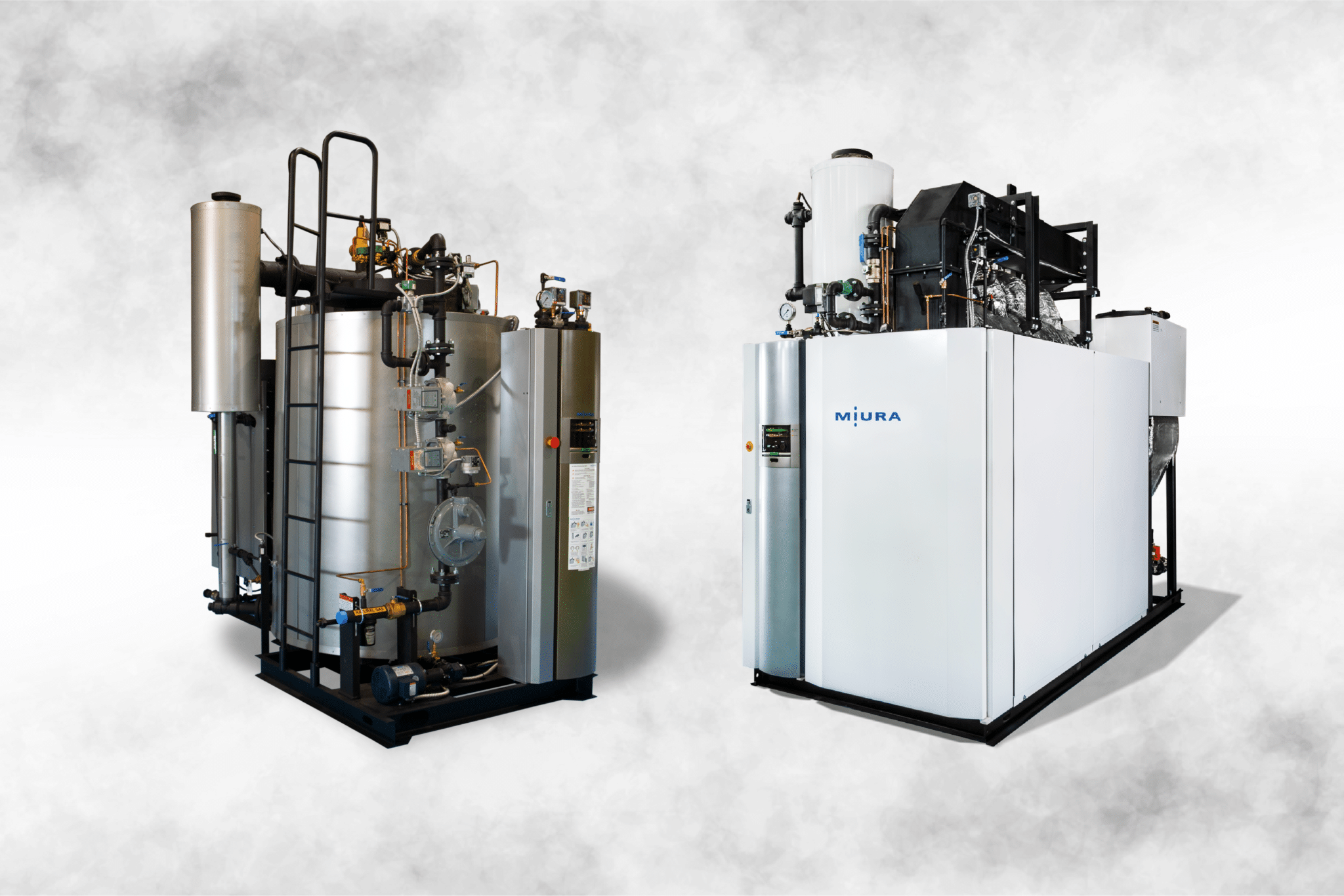 The most common industrial boiler systems on the market are designed to provide consistent hot water and/or steam heat for a variety of applications. The downside is that many industries don't need steam 24 hours a day, and these systems are not well-suited to accommodate changes in demand.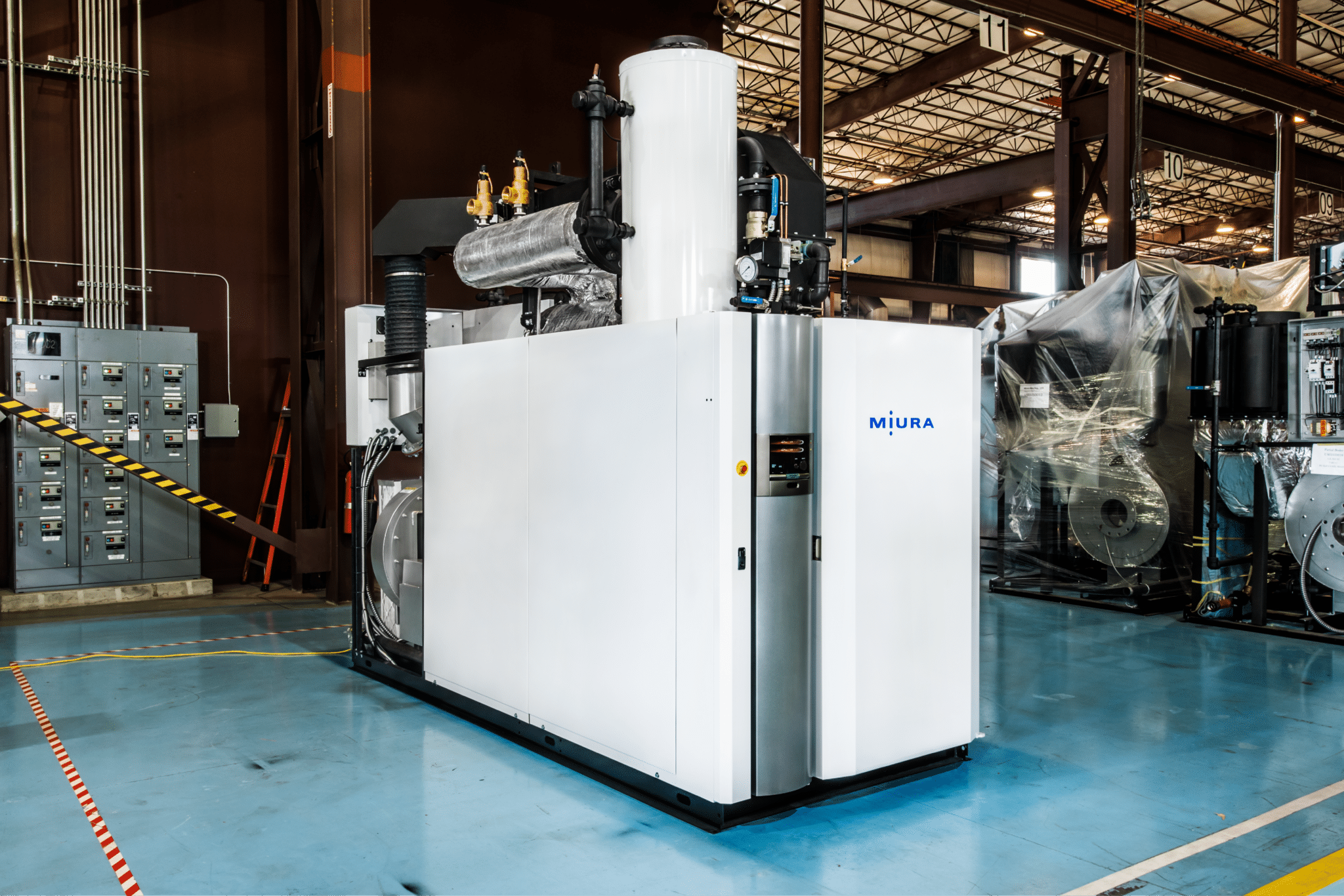 Companies are increasingly finding that outfitting their facilities with a modular industrial boiler system is the safest, most efficient, and most reliable way to meet the fluctuating steam demands of their facilities. We outline seven industries that benefit from choosing a modular boiler system.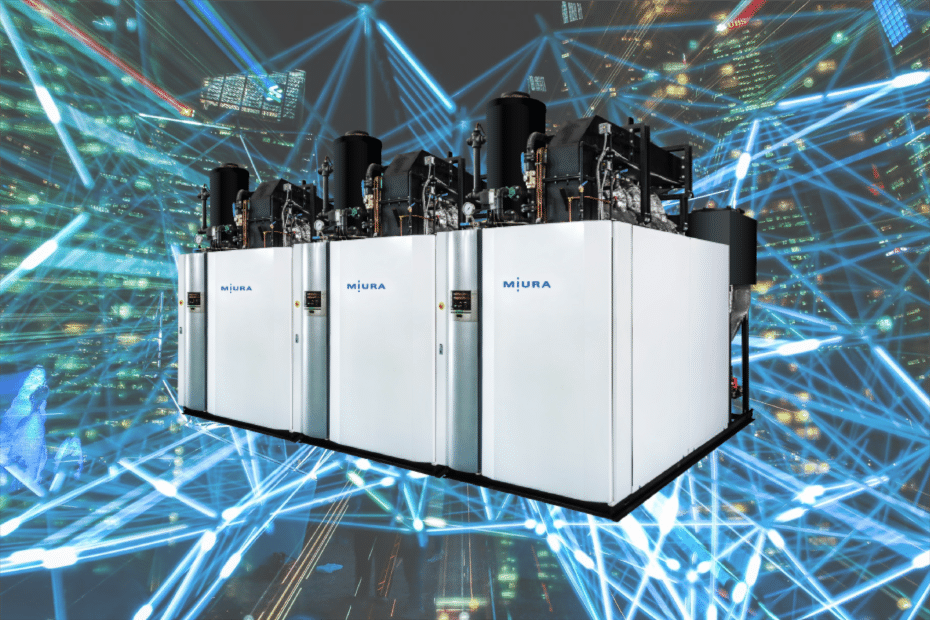 For a long time, large fire tube boilers were seemingly the only choice when it came to industrial boilers in America. Now, modular steam solutions provide compact size, lower emissions, fuel-efficiency, flexibility and safety.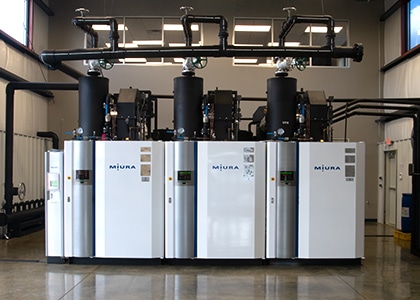 Design plays a critical role in determining efficiency, which is why Miura took time to carefully craft and perfect the complete packaged unit for maximum efficiency, safety, and reliability.
The insulated pressure vessel design that transfers heat to water, the standard economizer, and the once-through water tube design play a part in increasing efficiency.
There are two standards for measuring boiler efficiency: fuel-to-steam efficiency and in-service efficiency.
What is Fuel-to-Steam Efficiency?
Fuel-to-steam efficiency is the efficiency of combustion in the burner. Essentially, it is the percentage of energy that actually gets transferred to water and generates steam. A major limitation of using fuel-to-steam efficiency as a measure of the efficiency of a boiler system is that it only focuses on full-capacity operation. Of course, boilers don't constantly run at full capacity all the time. That's why you need to pay attention to in-service efficiency, too.
What is In-Service Efficiency?
How Do Firetube and Watertube Boilers Stack Up In The In-Service Efficiency Department?​
Generally, watertube boilers have higher in-service efficiency because of less radiant heat loss in a compact pressure vessel with less surface area and low water content. Firetube boilers tend to have lower in-service efficiency due to large storage pressure vessel and greater radiant heat loss.
Investing in a high-efficiency boiler, such as Miura's once-through modular boilers, offers many positive returns for facilities, including reducing heat loss and fuel costs. It also provides better conversion of fuel to steam, lower environmental impact, and easier compliance with emission standards. 
Learn More About Boiler Efficiency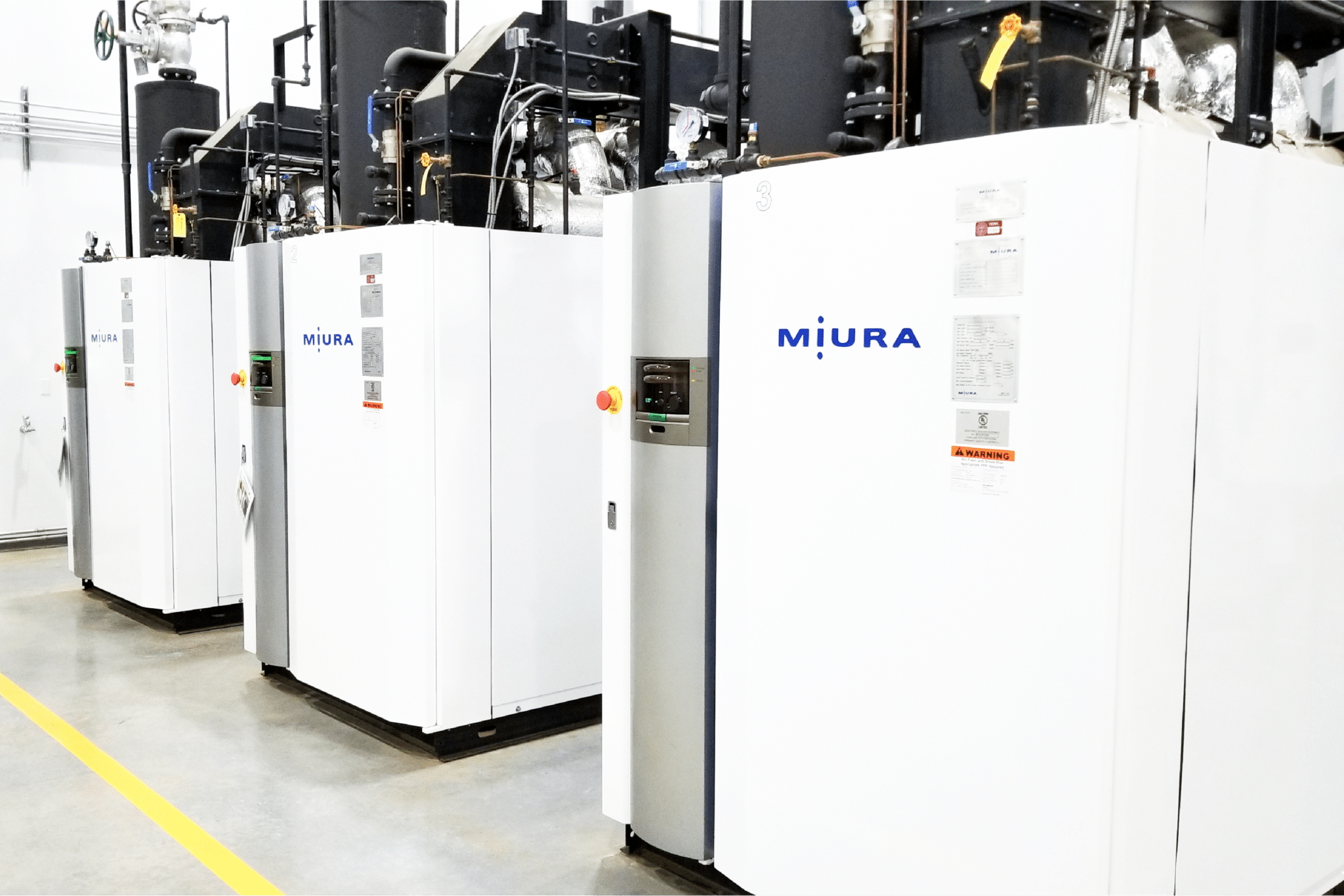 Are you trying to save the highest possible amount of money and energy in your boiler plant? It all comes down to (a) how efficient your boiler is, and (b) how well you take care of that boiler system. Here are our recommendations for choosing and maintaining a steam system that maximizes cost-savings and efficiency.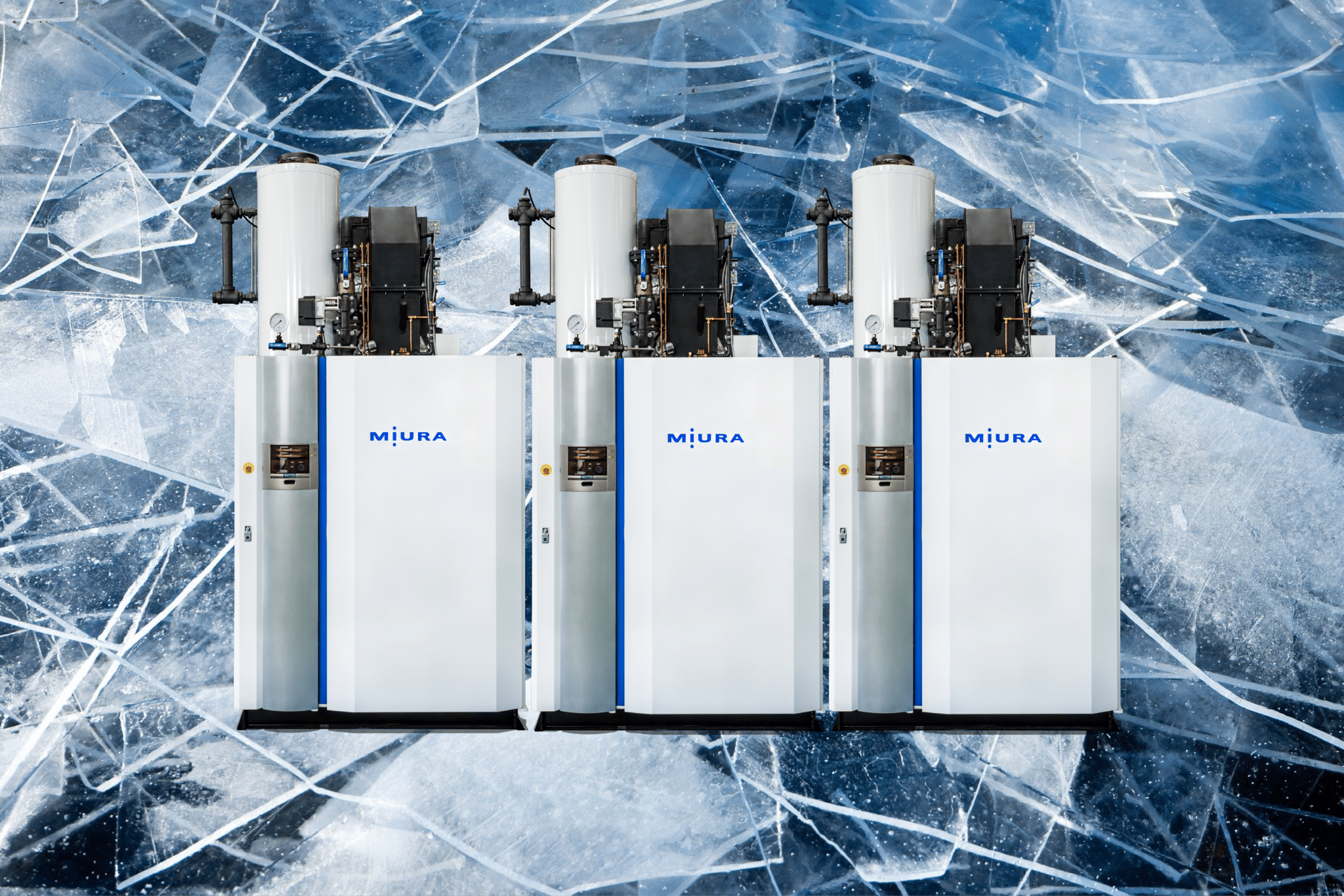 If you are looking into an industrial steam boiler, there are many factors to consider. One of the more important factors is a boiler's fuel-to-steam efficiency. While this won't tell you everything you need to know, it will tell you a lot about how efficient a particular boiler is at turning fuel into steam.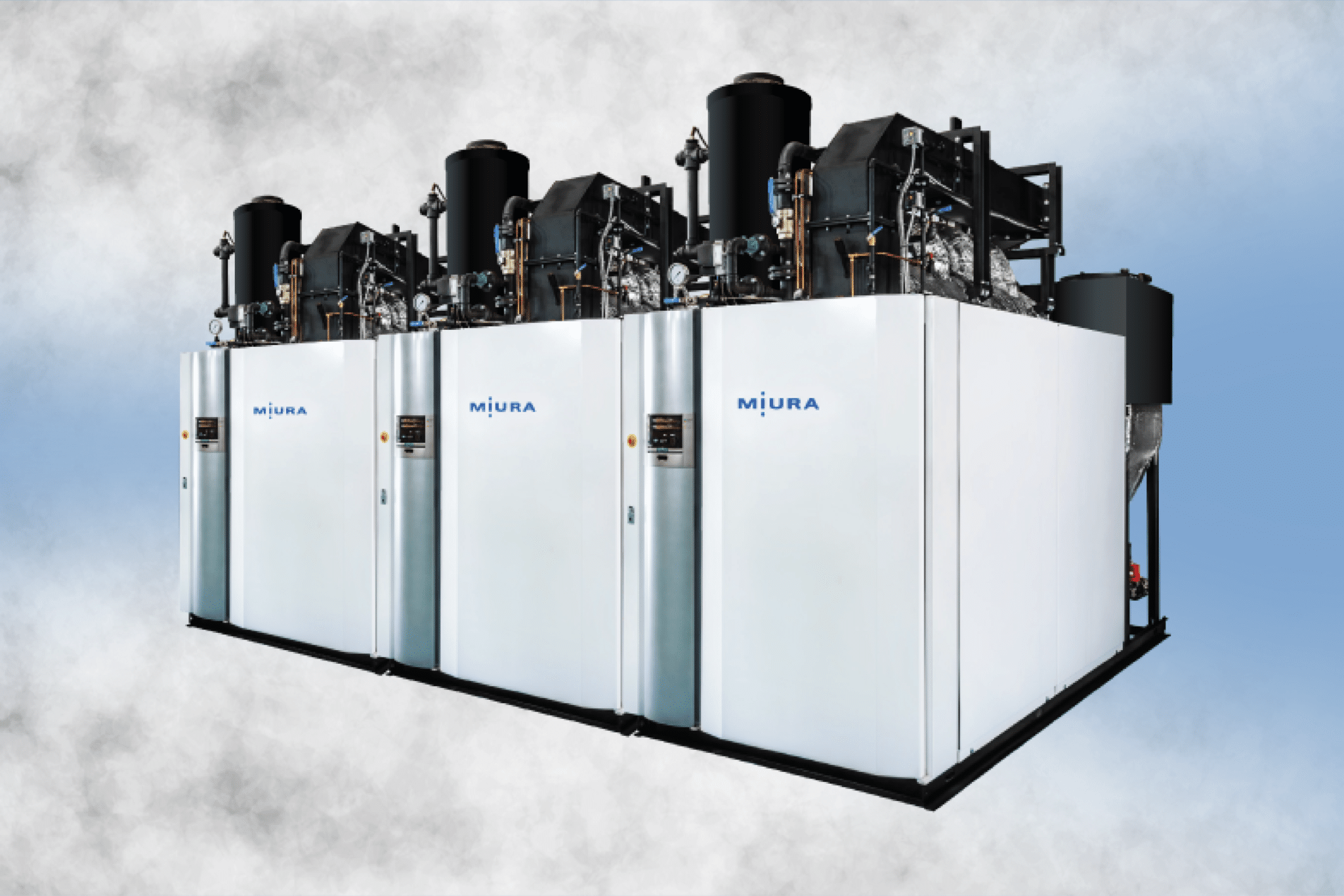 The merits of efficiency are immense. That's especially true when it comes to industrial boilers. Considering that many companies, plants, and campuses use their boilers for a variety of purposes (i.e., heating systems, hot water, cleaning, production, etc.), an efficient boiler room can save a multitude of costs over its lifetime.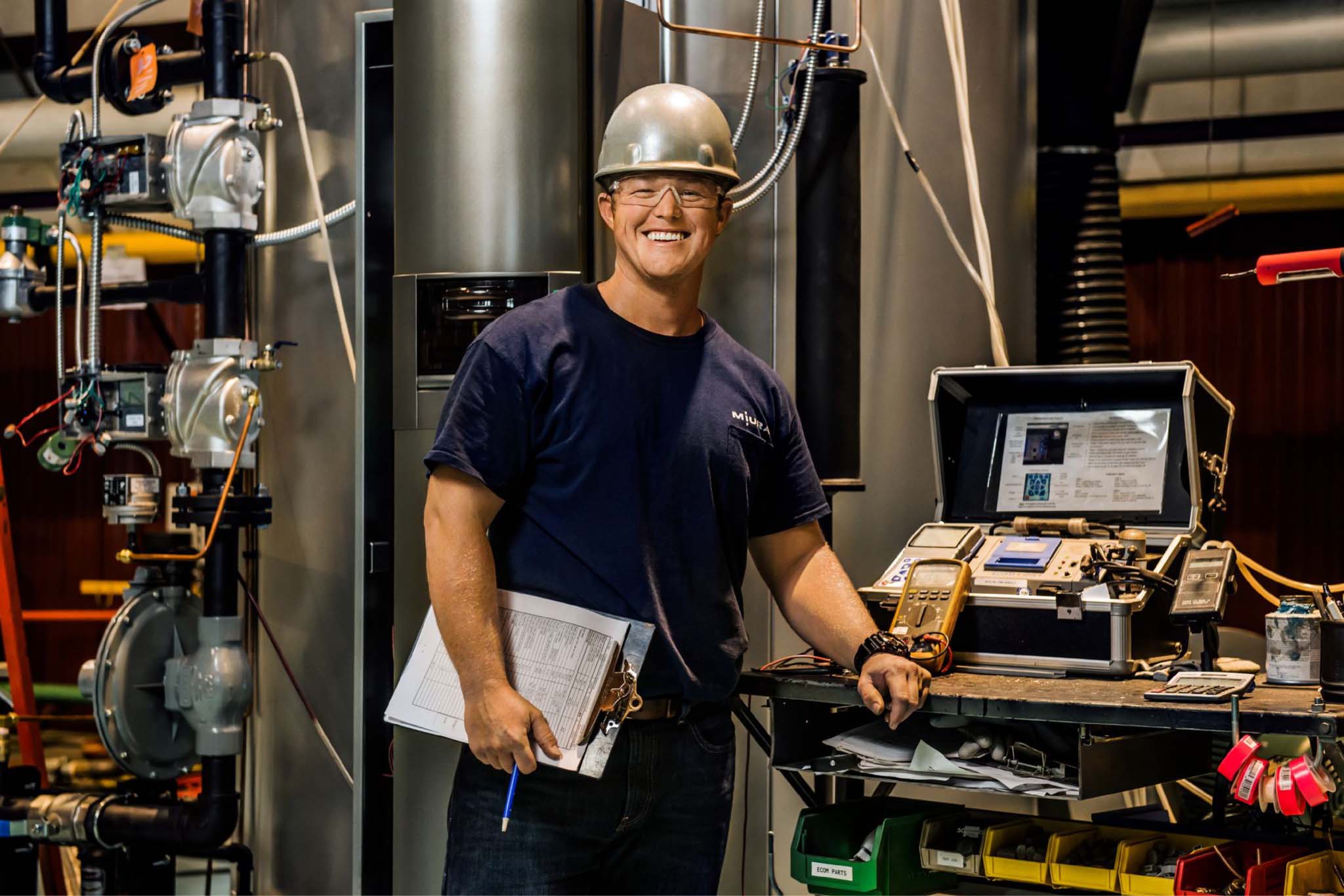 For judging the fuel efficiency of boilers, most rely on fuel-to-steam efficiency, which is the most popular measurement for boiler efficiency. However, fuel-to-steam efficiency doesn't always tell the whole story.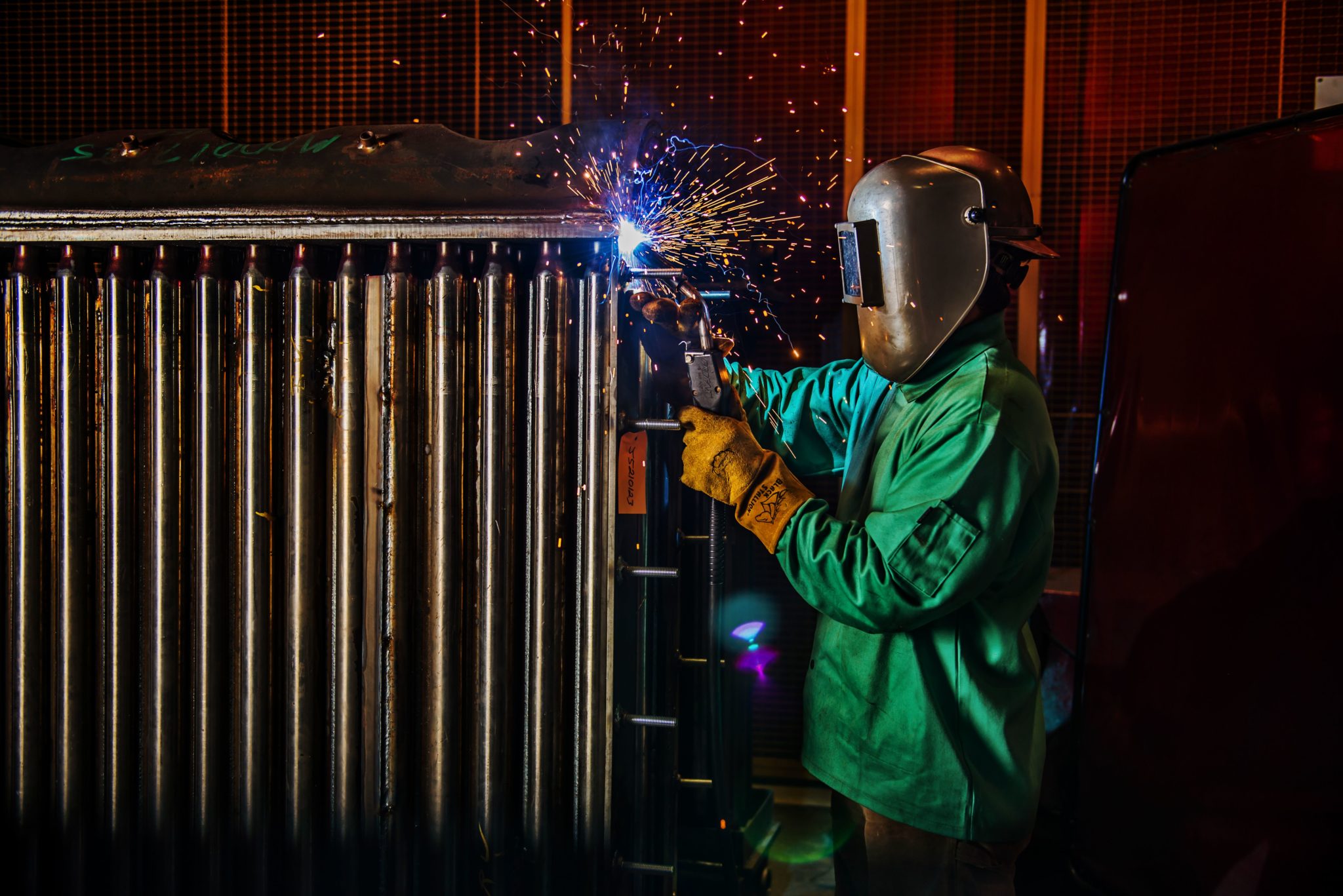 Traditional fire tube boilers are notorious for consuming large amounts of fuel, but with the constant rising price of fuel, it's now more important than ever to use boilers that can be as efficient as possible when it comes to fuel use and operating costs.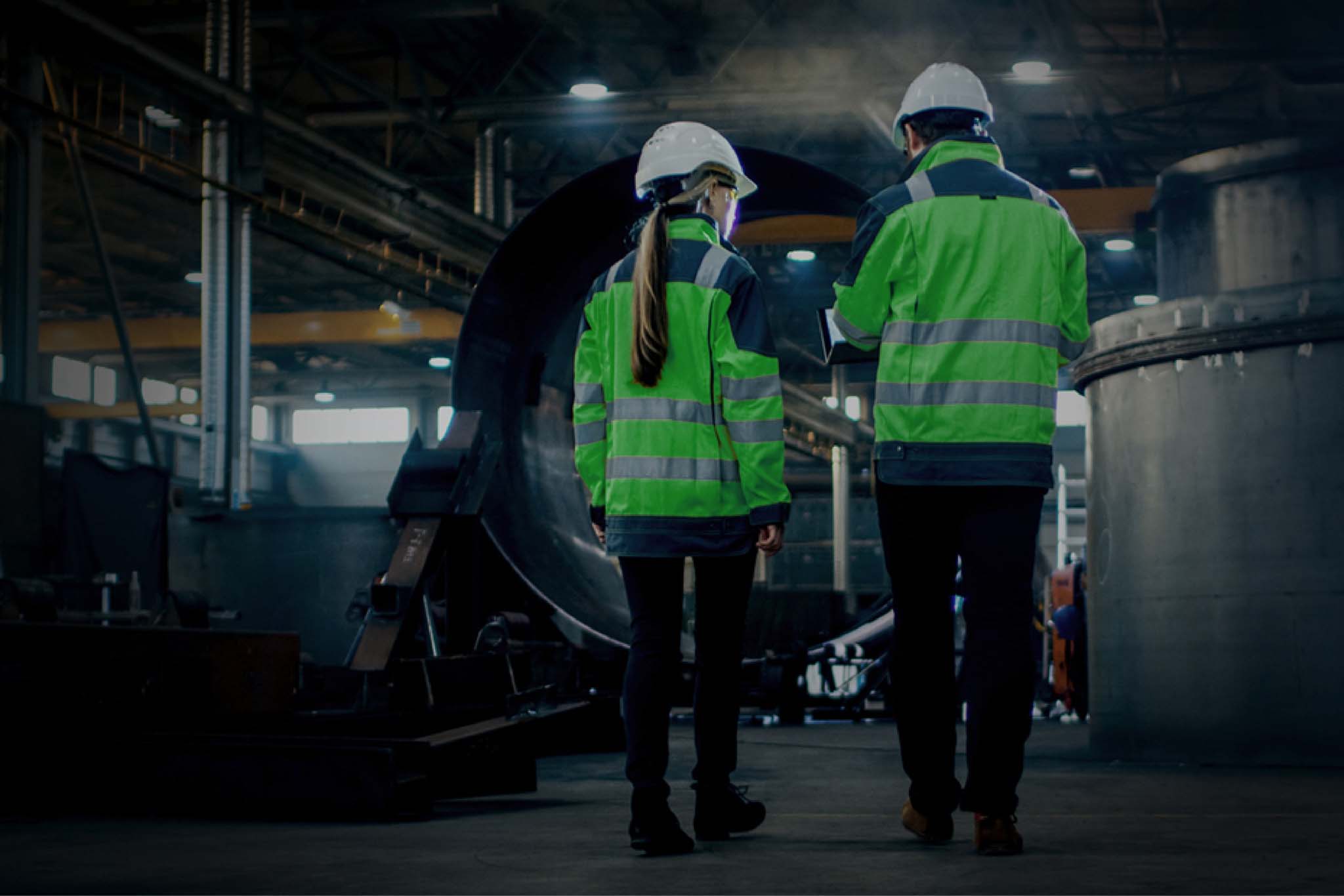 Nitrogen Oxides, commonly referred to as NOx, is a family of poisonous gases. These gases are best known for their role in air pollution, contributing to occurrences of acid rain, smog, and the deterioration of the ozone layer. When it comes to finding an energy efficient steam boiler, it's critical to consider NOx emissions standards.
A well-maintained boiler retains peak efficiency and reliability long term. A good maintenance program with regular inspections and cleanings keeps boilers running in the best possible condition. A well-maintained boiler also helps better retain its efficiency and reliability over the long term, which directly affects the bottom line.
While boiler maintenance is necessary for maximizing a boiler investment, safety is another important reason to prioritize regular boiler maintenance. Maintenance is critical for making sure the mechanisms of a boiler are working properly and safely. Insurance providers and local authorities carry out annual inspections through authorized personnel. Following the manufacturer's suggested maintenance program can help the boiler pass these checks without issues.
Boiler maintenance is a constant process. Your boiler maintenance program should have maintenance procedures for shifts, as well as thorough inspections and checks on a daily, monthly, and annual basis.
Shift and daily maintenance include checking the water level and steam pressure gauges. Other tasks for the shift and daily maintenance involve blowdown, checking burner operations, fuel conditions, cleaning gauge glasses, and testing water cutoff and water level alarms. Basically, an operator should make sure the boiler has no visible problems.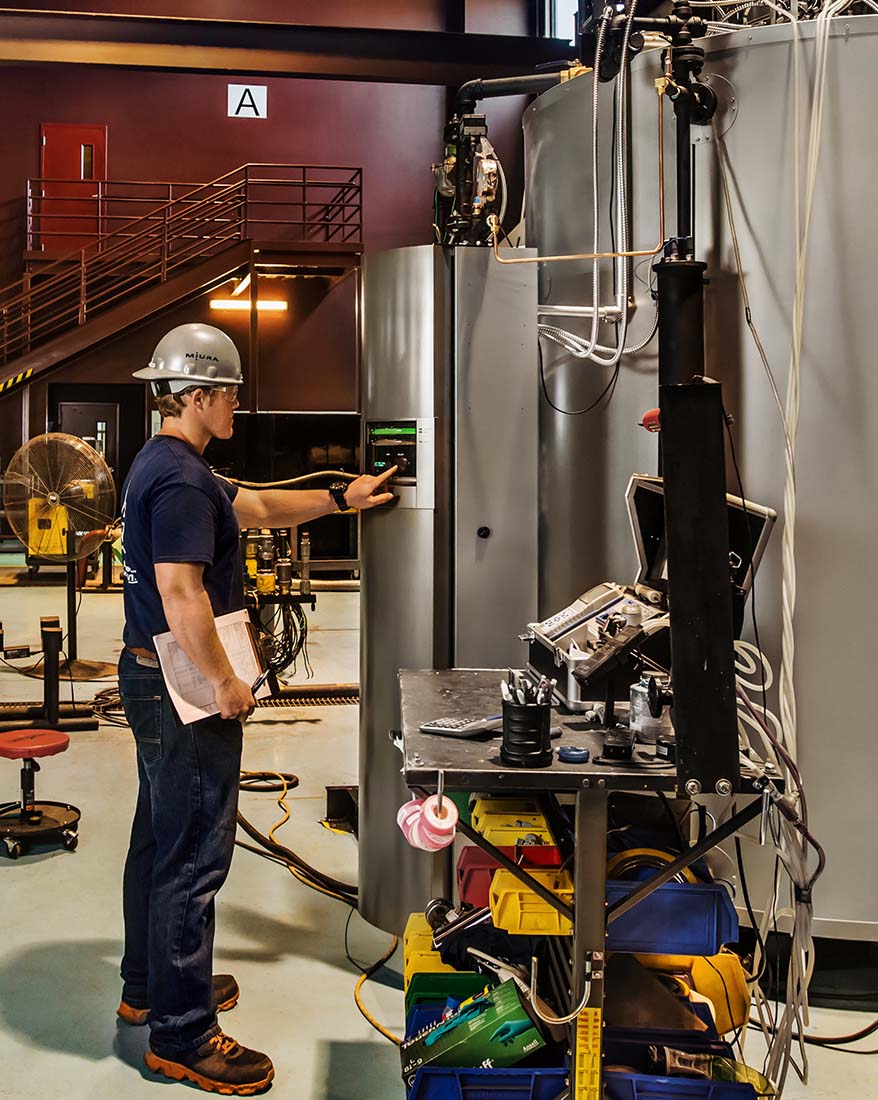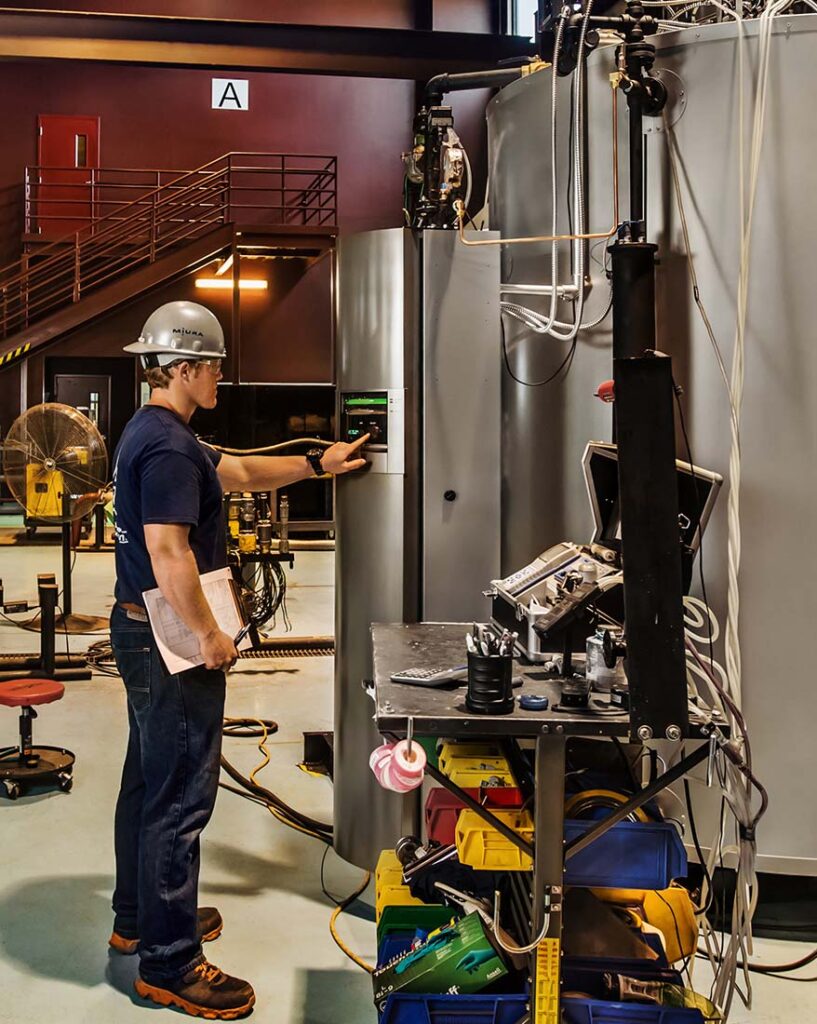 Monthly maintenance usually involves checking for leaks or signs of stress during boiler shutdown. It may have safety-valve checks to make sure they're working properly and corrosion hasn't locked them.
Facilities usually schedule annual maintenance tasks all at once as the boiler must be temporarily removed from service. Facilities use the opportunity to perform all the maintenance tasks that they can't when the boiler is in service. Repair and replacement work of tubes, refractory, valves, gaskets, pumps, etc. also become convenient. Other tasks involved are cleaning of surfaces, removal of sludge and scale, opening of valves, and inspection of surfaces for signs of damage.
Modern controllers and monitoring systems identify issues in their early stages to avoid bigger problems. For facilities equipped with Miura boilers, maintenance is super easy with automated diagnostic software built right into the system.
Learn More About Boiler Maintenance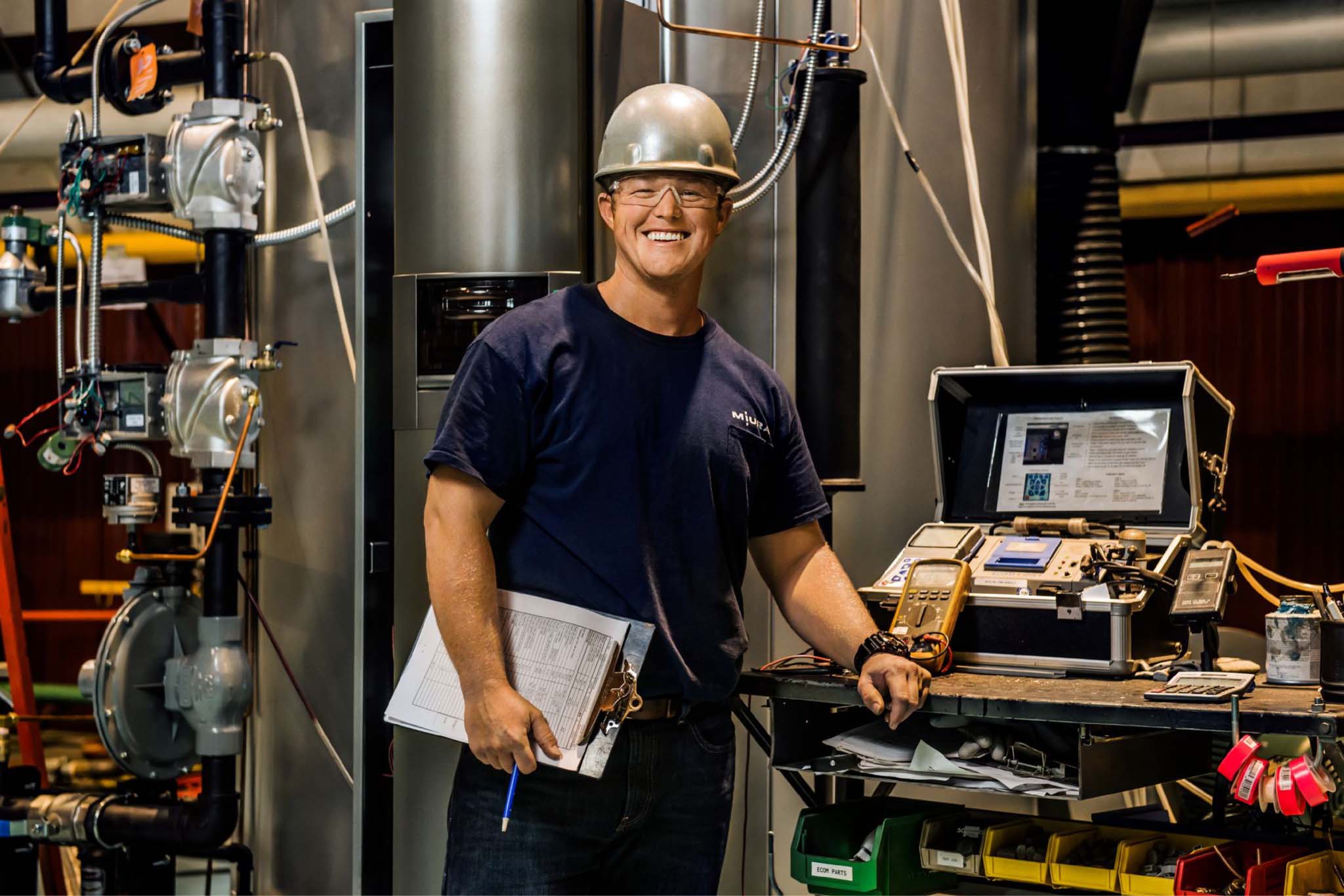 Boiler maintenance procedures and water treatment chemicals are critical in the fight against the development of scale, corrosion, and pitting inside of your steam boiler. While the boiler is in normal operation, feedwater containing corrosion inhibitors flow throughout the boiler and spread a vital layer of protection over the vessel's exposed steel metal surfaces.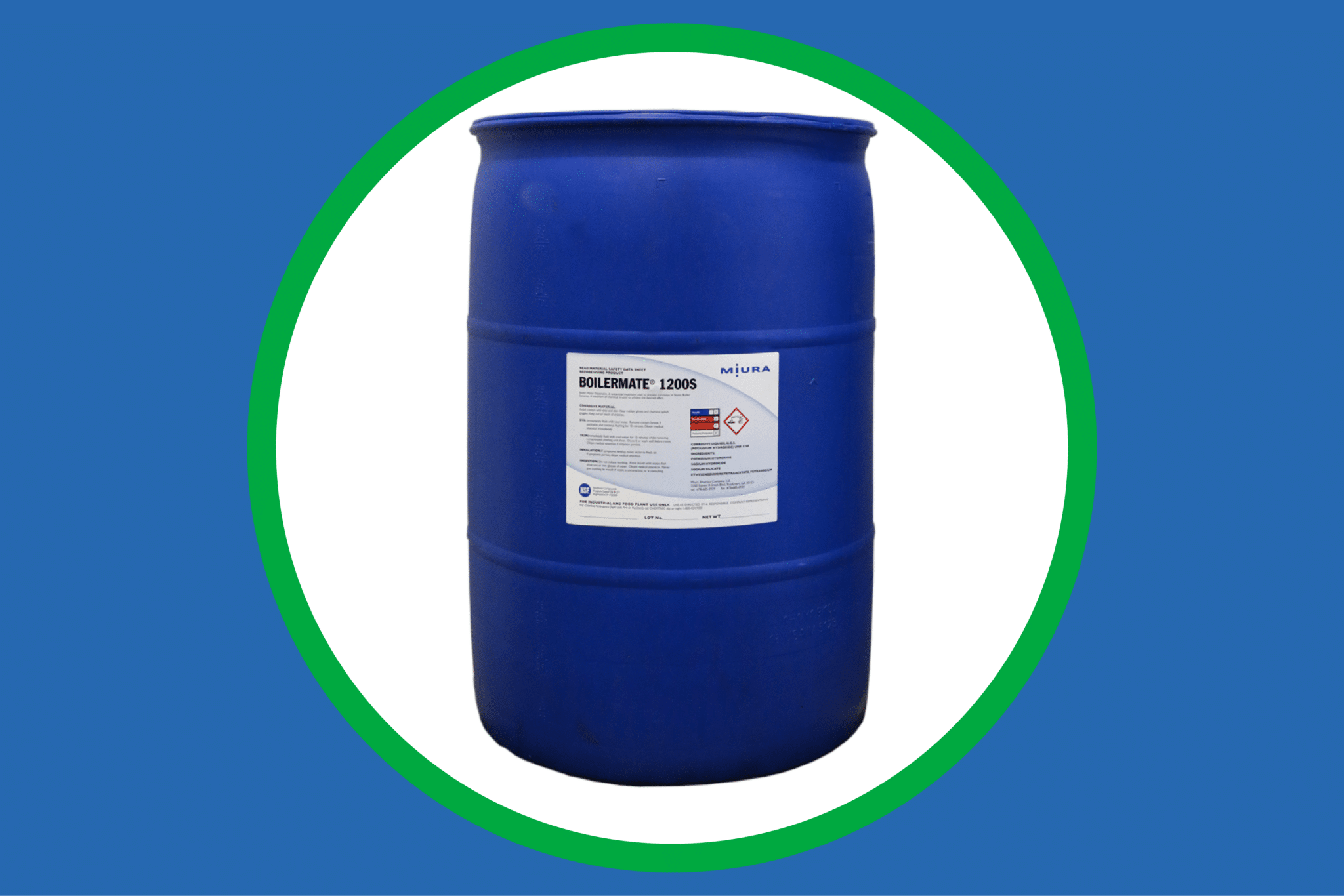 Water is one of our most important resources — in fact, it's essential to life on earth. However, believe it or not, as the "universal solvent," water can also be remarkably corrosive over time. Ions and particulates in the water can react with metal to cause either scale build up, gradual corrosion and decay, or both.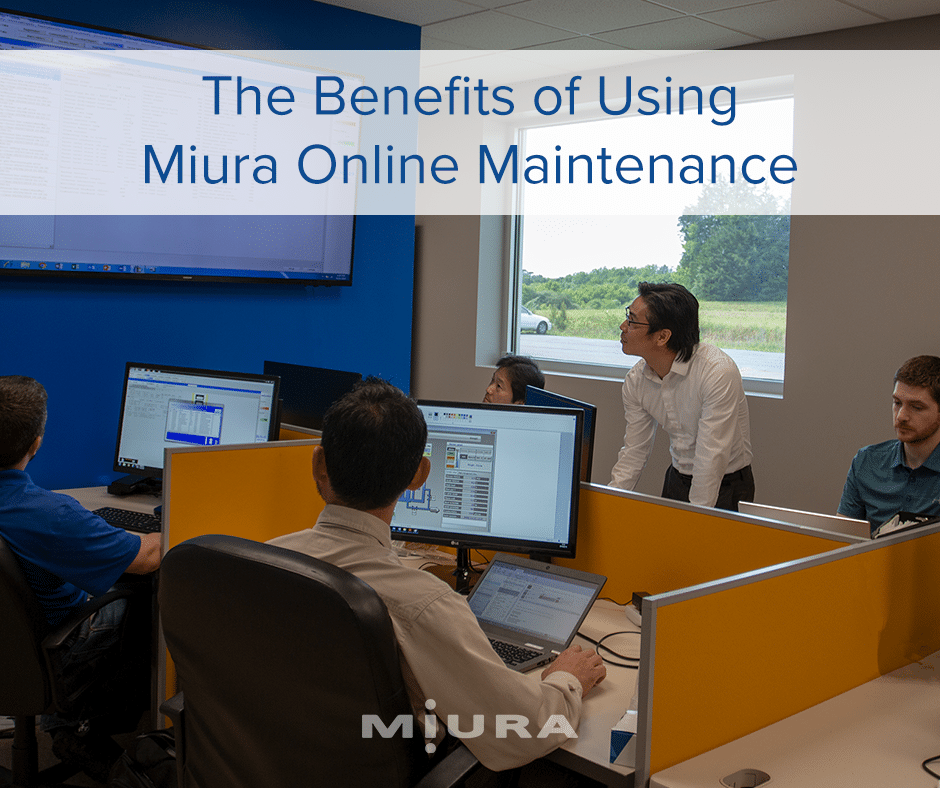 Miura boilers are already built for maximum reliability and performance without a lot of downtime or maintenance. One of the ways we take that reliability further is through the Miura Online Maintenance System (MOM), a state-of-the-art boiler monitoring system designed to detect and alert issues with your boiler system before they have a chance to take root.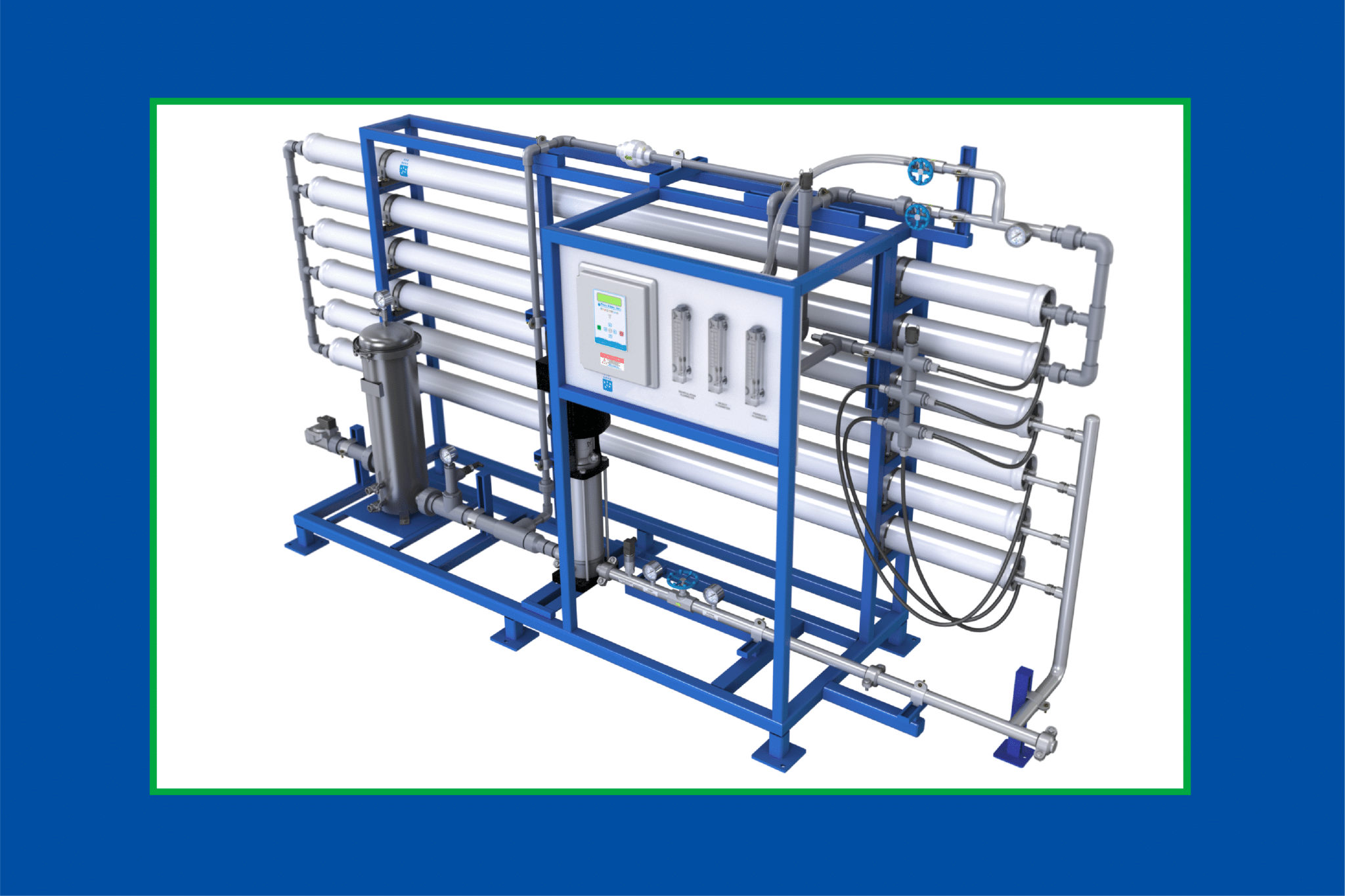 A high-quality reverse osmosis system to ensure the best possible output and maximum efficiency. Reverse osmosis is a process that removes impurities and unwanted mineral content from the water to send pure, high quality feedwater to the boiler.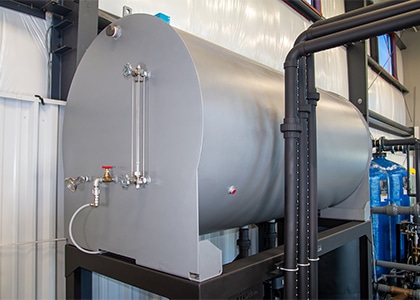 Industrial boiler systems need a constant supply of water from which to produce steam for the company's various applications. To prevent mineral scaling and buildup within the boiler itself, treating industrial boiler feedwater is a must for steam boiler maintenance.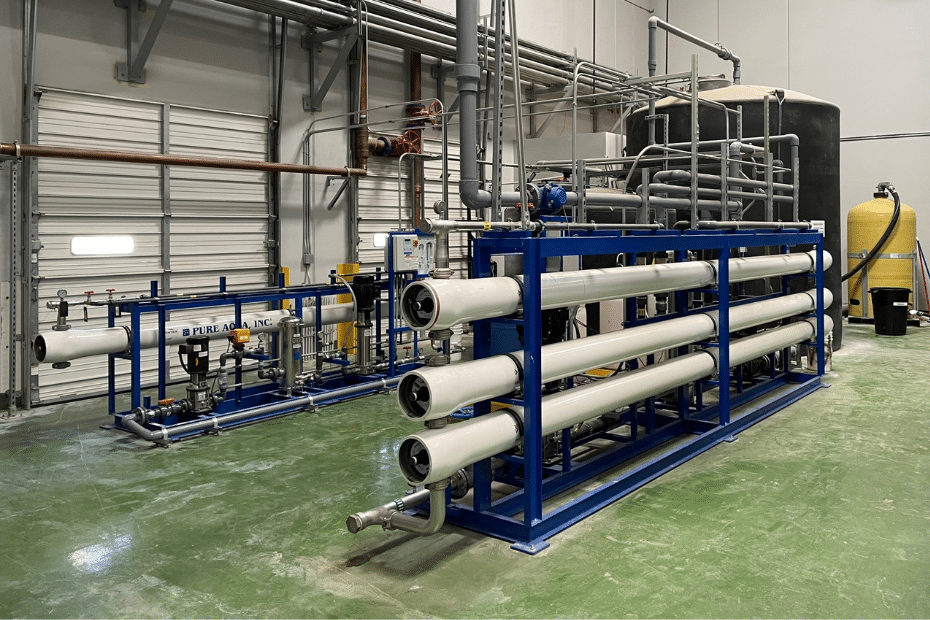 When talking about boilers, water purification and other steam-related functions, the term "RO" gets thrown around a lot. But what does this term mean, exactly? What is a reverse osmosis system, and why does it matter for industrial steam boiler maintenance?
Modern boilers have numerous safety mechanisms, but that wasn't always the case. Before 1906, rules and regulations for boiler safety didn't exist. When boilers failed, human lives were lost. The American Society of Mechanical Engineers (ASME) was founded after a large number of boiler explosions occurred in the late 19th century. In absence of government rules and regulations, the organization created its own rules for the industry in 1906 — the year after the Grover Shoe Factory industrial explosion in 1905. The rules limited steam pressure and provided guidelines for performance characteristics of rivets and plugs. ASME's Boiler and Pressure Vessel Code has become the industry and national standard.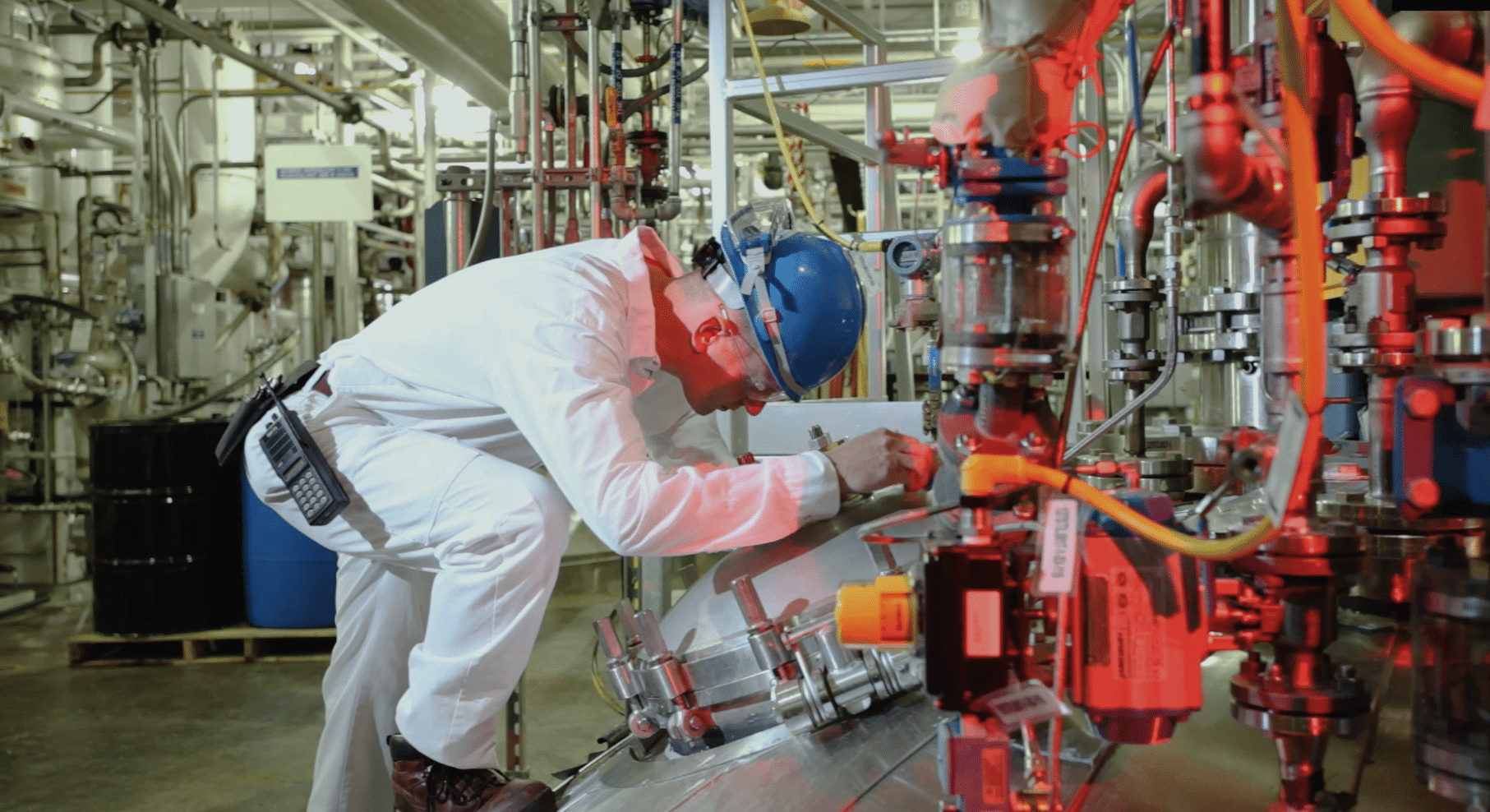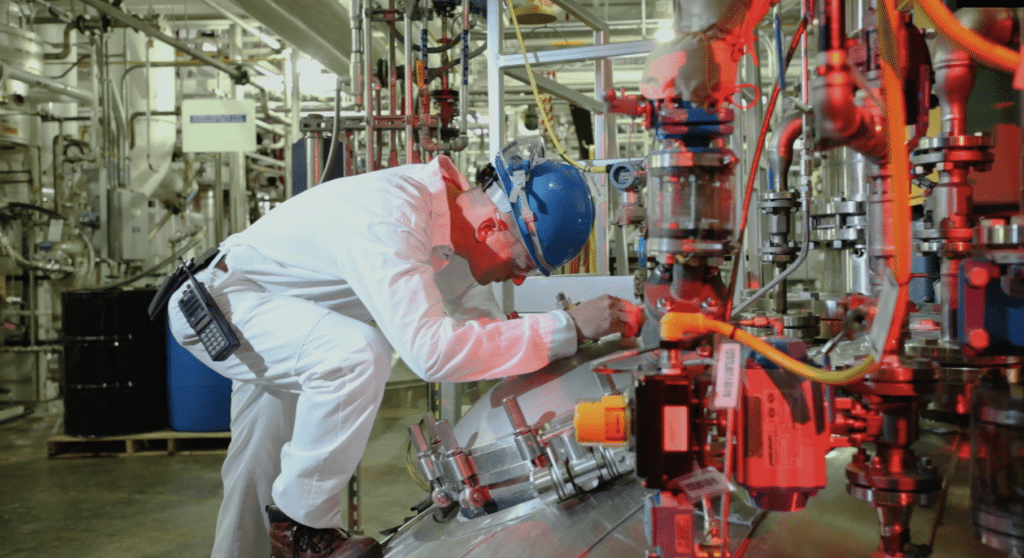 Modern boilers are extremely safe compared to the boilers of the 19th century, but that doesn't mean all boilers are equally safe. Steam boilers that contain high pressure in a large vessel have a history of disasters because of their design, in which a large vessel stores water and hot gases pass through tubes placed inside water. If a problem occurs or a safety mechanism fails, the stored pressure inside the pressure vessel has to expand somehow. Otherwise, the pressure vessel explodes. Another threat to traditional large pressure vessel boilers is thermal stress, which occurs when the metal inside the boiler heats unevenly. Thermal stress can damage the vessel material with cracks and distortion and cause failure in the long run. Miura's pressure vessel, on the other hand, distributes the flame evenly, thus preventing any potential thermal stress.
Watertube boilers have less intrinsic risk due to the low water content design that operates with just a fraction of water volume present inside firetube boilers — and that smaller water volume further divides across multiple tubes. Miura's watertube boilers have just the tenth of the water volume you would find in a firetube boiler, which reduces the risk of a catastrophic failure and explosion. Even if a tube fails, the damage is localized within the tubes.
Learn More About Boiler Safety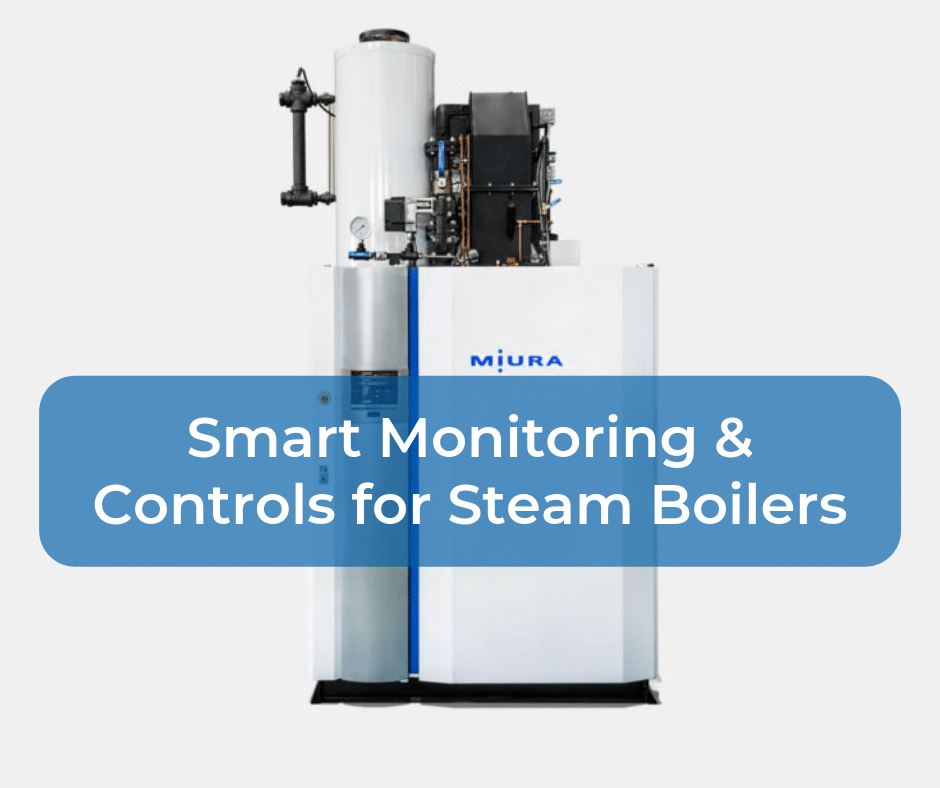 Efficient steam boiler systems have many moving parts, which is why it is so important to properly monitor and ensure optimal performance at all times. Pro-active maintenance for your steam boiler is crucial. If even a small, worn part begins to fail, it can cause a cascading effect that may even go undetected until the system itself fails.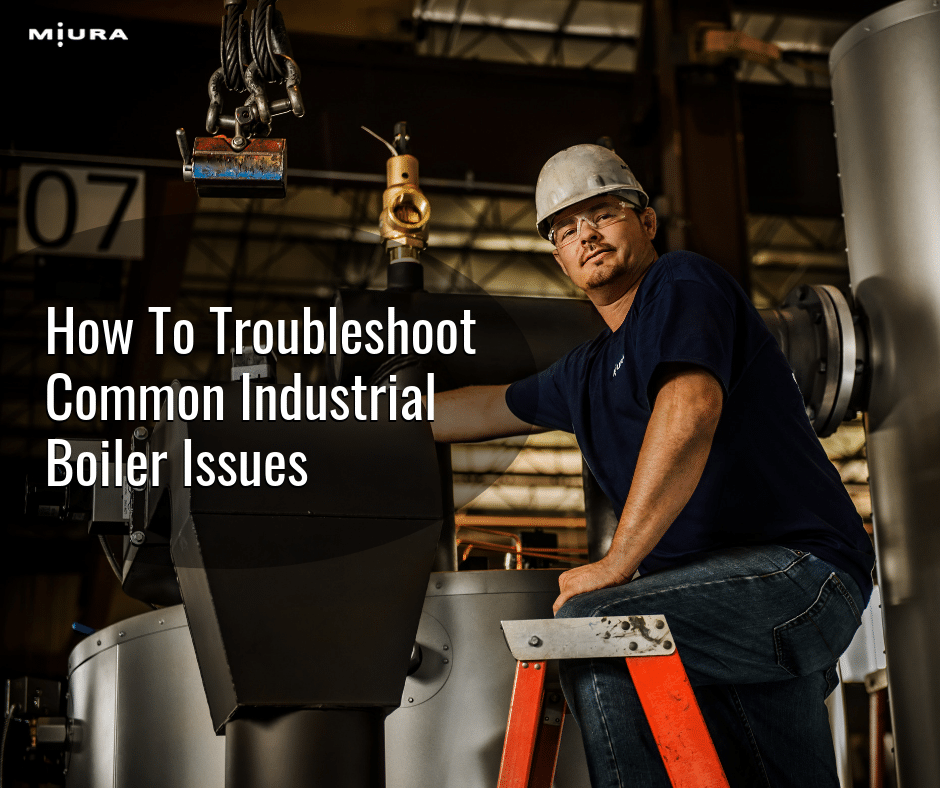 Machines have a service life, so problems both big and small will present themselves at some point. The key is knowing how to identify and troubleshoot common problems so that they can be addressed as soon as possible.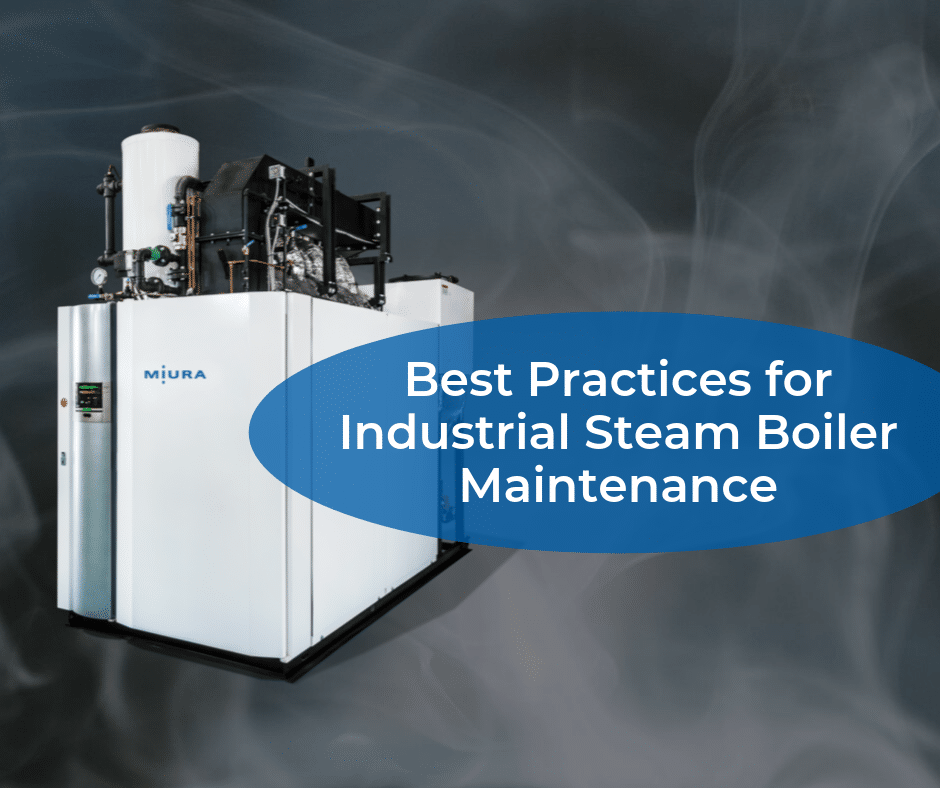 Because steam boiler and heating system problems typically occur over a long period of time, boiler preventative maintenance goes a long way in keeping your steam boiler in working order and avoiding failures or catastrophic malfunctions.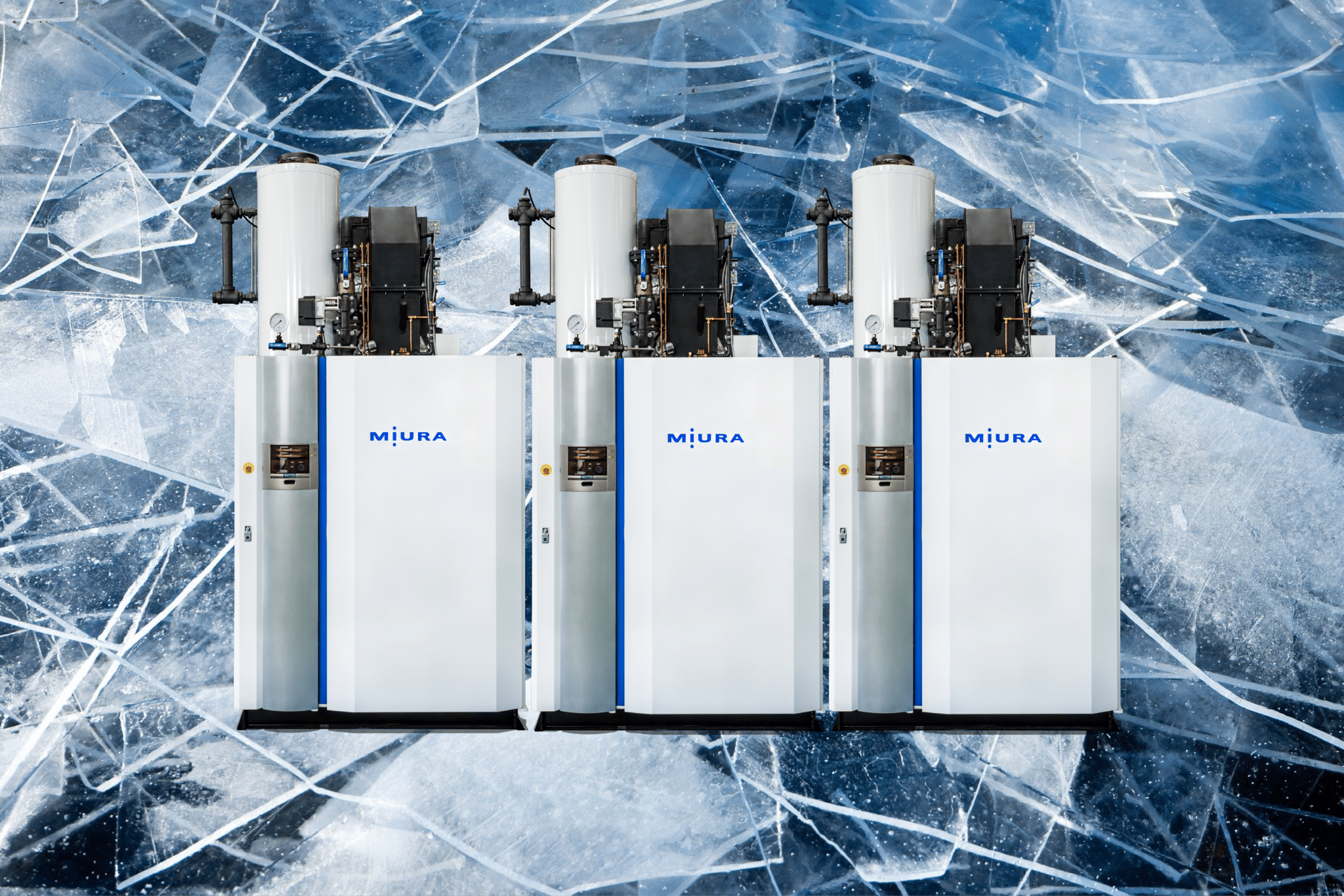 One of the worst-case scenarios for any industrial steam boiler is something called thermal shock. This refers to a safety issue from within the boiler that can have dire consequences. However, it's an issue that can be either prevented or minimized with careful monitoring.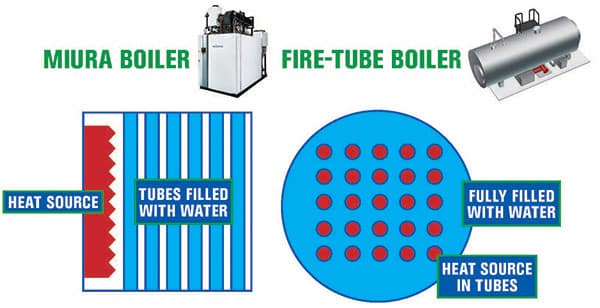 Today's industrial steam boilers are remarkably safe. Yet, experts suggest that some are safer than others, not simply based on physics, but on routine operations. Staying safe often means working in an environment that minimizes the potential for personal injury, disability, downtime, productivity shortfalls, worker's compensation claims, and more.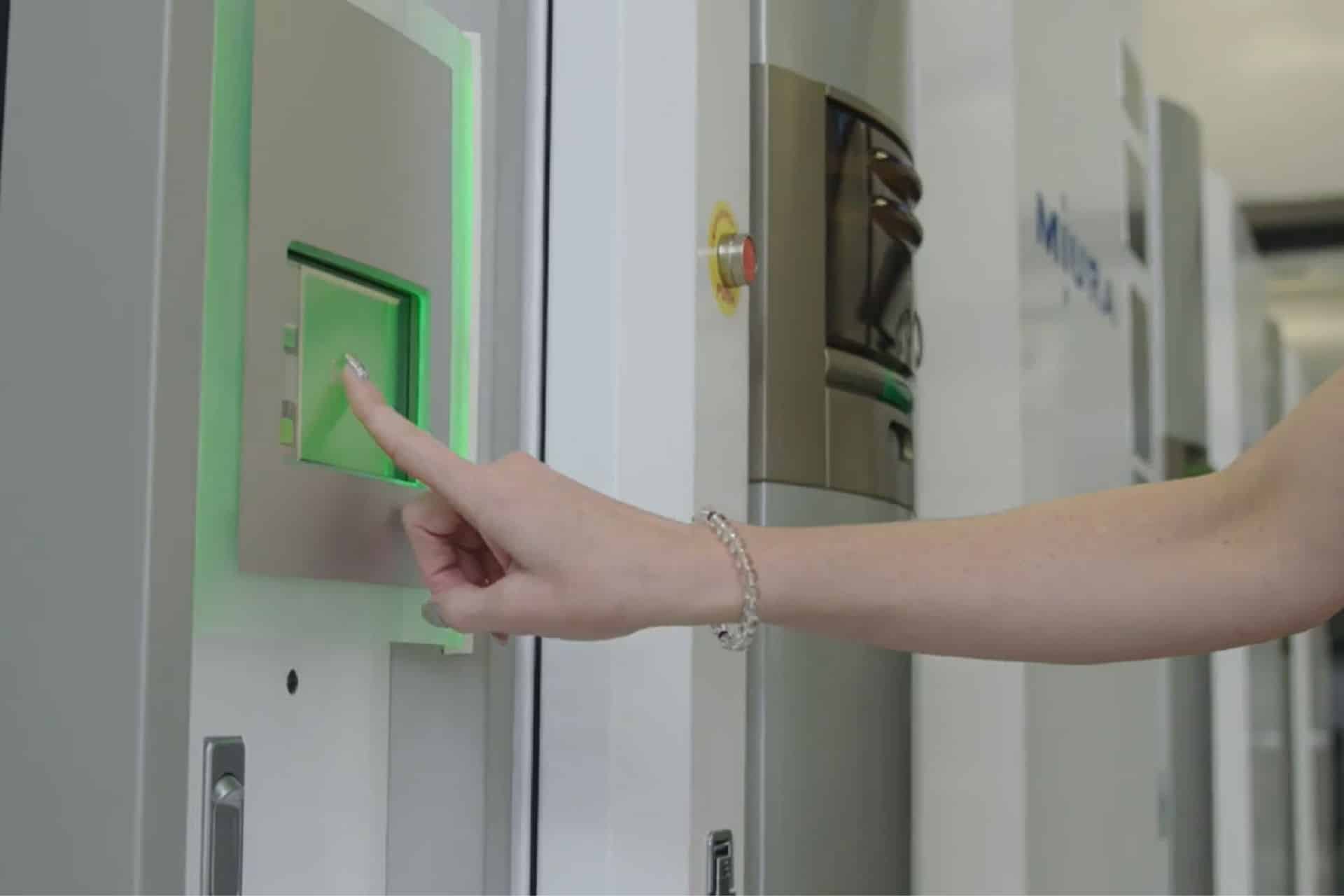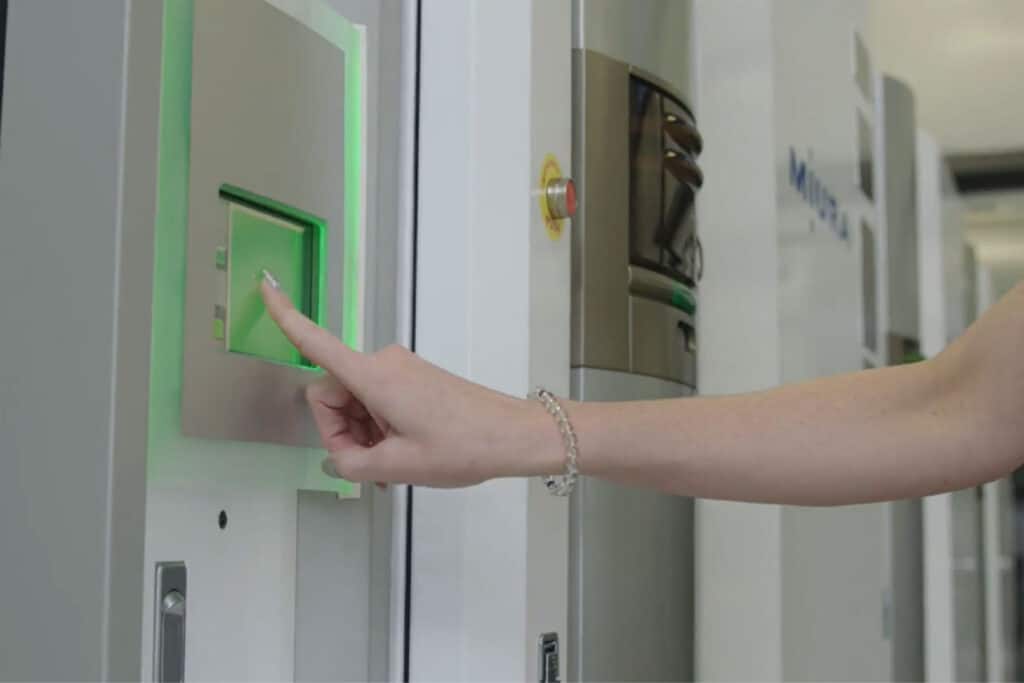 Boilers use a fuel source, whether it's bio mass, fuel, or coal to generate heat that boils water to create steam burn fuel to generate steam, and all fuels used in boilers emit varying levels of gases. Boiler emissions include NOx, CO, CO2, VOCs (volatile organic compounds), water vapor, and many other harmful pollutants. NOx isn't a single pollutant — it's actually a family of pollutants called nitrogen oxides. Thermal NOx is a byproduct of combustion in the burner. These pollutants are harmful to the environment as well as workers and people living near facilities, too.
As companies work to become more environmentally responsible, they are turning to low-emission boilers — in particular, low NOx boilers — to help them meet regulatory standards and company sustainability goals. These low-emission boilers empower companies with an environmentally-friendly steam solution that doesn't impact production and helps them meet ever-changing government regulations. 
Because Miura boilers are "low NOx out of the box" and highly efficient, they also help companies save fuel and improve the bottom line of the facility. They have advanced air-fuel controls to keep burner conditions optimized. A low-emission boiler may also use Flue Gas Recirculation (FGR), which is a method of reusing a part of flue gases to improve combustion.
Learn More About Boiler Emissions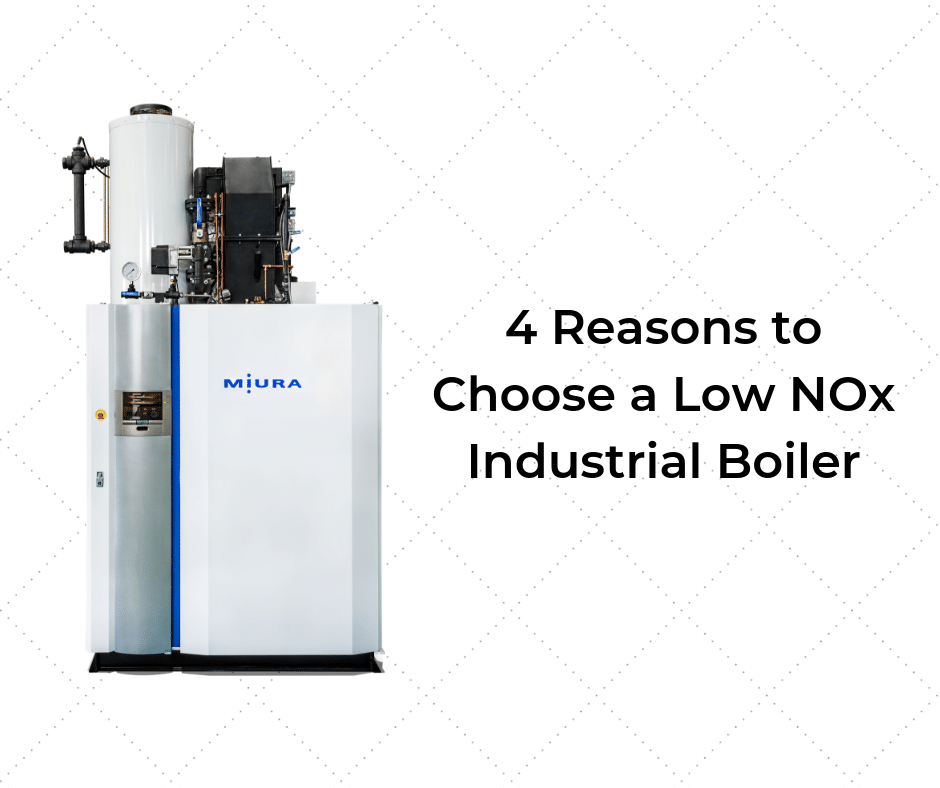 Environmental awareness is no longer merely something for certain industries to think about; it's an issue that businesses in all industries need to take seriously. For any business that utilizes a steam boiler, one of the best ways to lower your environmental footprint is with an ultra-low NOx boiler.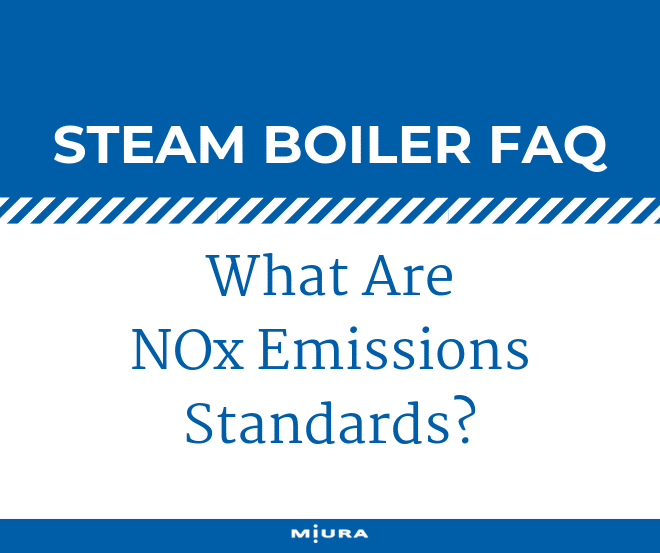 When it comes to finding an energy efficient steam boiler, it's critical to consider NOx emissions standards. Nitrogen Oxides, commonly referred to as NOx, is a family of poisonous gases. These gases are best known for their role in air pollution, contributing to occurrences of acid rain, smog, and the deterioration of the ozone layer.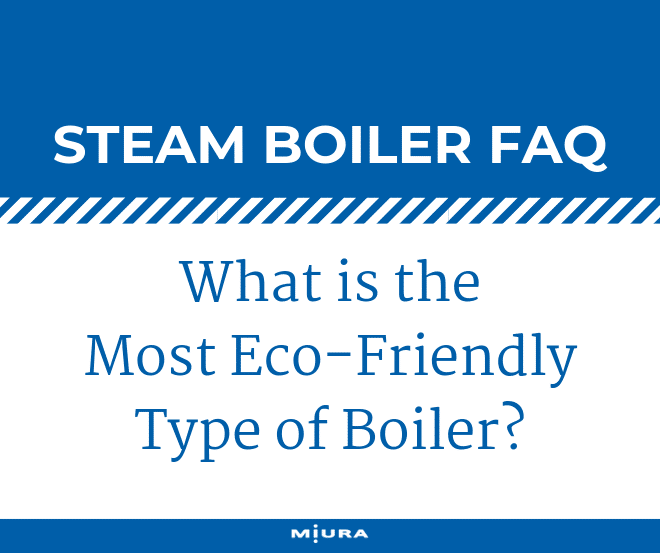 A growing number of companies, factories, campuses, and healthcare facilities are looking for ways to be more "eco-friendly." Some are dealing with increased emissions restrictions; others just wish to reduce their carbon footprint. Many companies are now looking at this issue when selecting a boiler system, whether they're using it for manufacturing, hot water, or their heating systems.
Now that you understand the basics of steam boilers, let's dive a bit deeper into Miura's steam boiler products and how they work.
Every boiler system needs reliable water treatment to generate steam. The quality of the water determines how well the boiler operates, and consistent water treatment is the only way to ensure quality steam output and equipment protection from corrosion.
Because improper water treatment can be detrimental to not only the steam output, but to entire system's longevity, it is arguably the most important part of the steam system – no matter what type. That's why Miura pays close attention to water quality and provides a range of water treatment solutions as part of the Total Steam Solution. These products include:
MW Water Softener features a dual tank design for extra reliability in providing consistently softened water, even during the regeneration process.
BOILERMATE® is a silica-based chemical water treatment that serves as a protectant inside once-through boilers.
Feedwater Tanks are a water storage device designed to ensure an ample amount of water is supplied to your boiler. 
Deaerator Tanks protect your steam boiler from corrosion by reducing the dissolved oxygen content of the feedwater.
Reverse Osmosis (RO) Systems purify water of any minerals before allowing it to enter the boiler.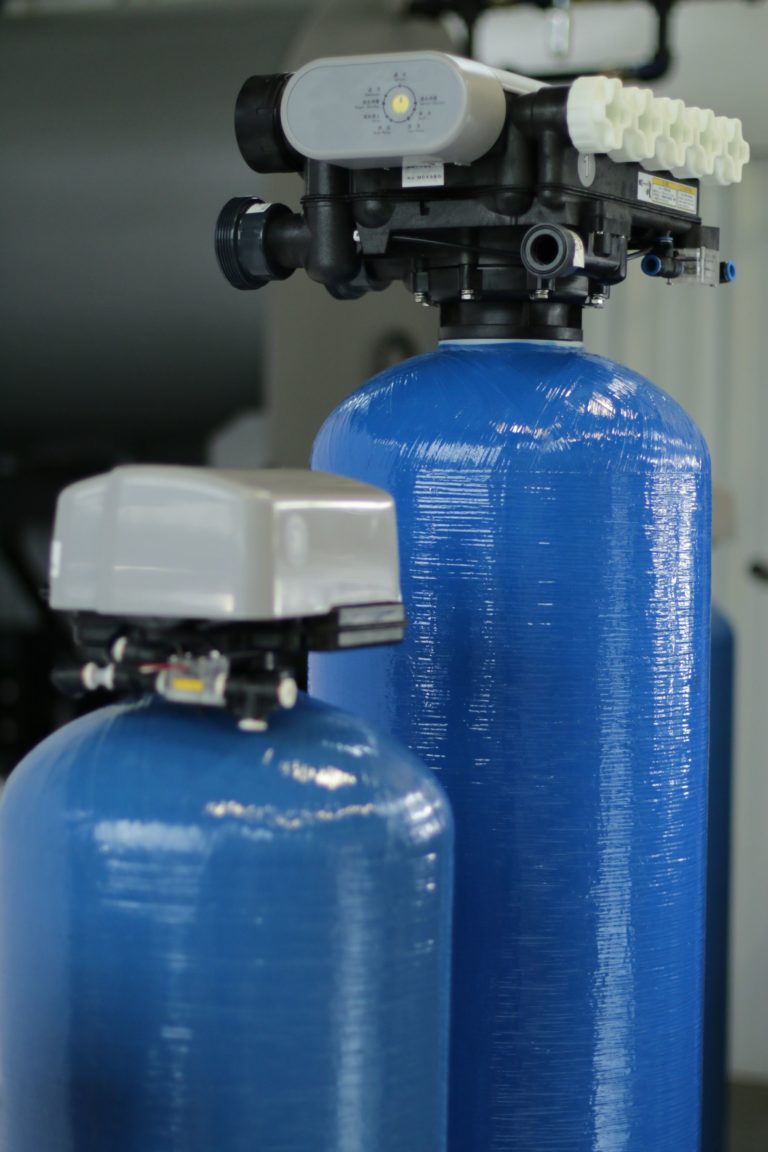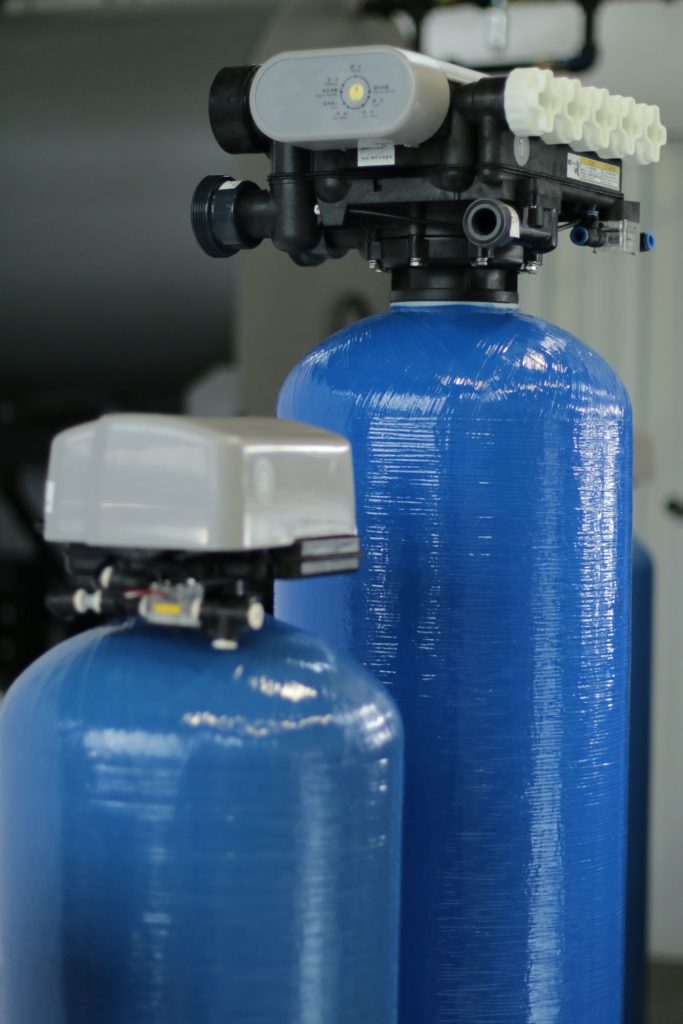 Once-Through Modular Boilers
Once-through watertube boilers, as the name suggests, are watertube boilers in which the water passes just through the tubes just once to generate steam. Miura's once-through watertube boilers are modular boilers that have multiple small boilers working in tandem. 
There are several reasons why industries with fluctuating load demands choose once-through boilers:
On-Demand Steam
Miura's modular once-through watertube boilers supply steam in under 5 minutes after startup — compared to the hours of startup time required of firetube boilers.
Fuel Efficiency
Safer by Design
On-demand, modular steam solutions are critical for many industries — from manufacturing and processing plants to health care facilities.
Tire manufacturing plants require steam for the vulcanization and manufacturing of tires.
Breweries and Distilleries need steam boilers to evenly heat the mash, as well as for sterilization and other processes during the kegging, bottling, or canning process.
Chemical processing plants must heat up and cool down their reactors on a cyclical basis, which is why choosing a boiler system that can handle the peaks and valleys of daily production is crucial for efficiency.
Food and beverage processing plants need steam for sanitation, heating of ovens and vats, and processing large batches of products.
Hospitals rely on a duel fuel steam system when natural gas gets curtailed due to excess usage and a secondary source keeps them running for critical use in sterilization, cooking, healthy air humidity, and more.
Laundry facilities use a lot of hot water, but steam boilers are also necessary for heating industrial irons and presses to remove wrinkles.
Textile manufacturing factories must be able to heat water quickly and efficiently for dyeing and finishing fabrics.
Universities require robust, on-demand steam systems capable of handling the needs of large cafeterias, on-campus housing, and medical facilities.
Outsourcing Your Steam Plant
The future of steam is a subscription-based program that provides you with the latest and greatest service and operation.
This turnkey steam solution delivers state-of-the-art boiler equipment, next-generation IoT capabilities, and on-site operation and maintenance services for a single monthly payment with no upfront cost.
Peak Peformance
With SaaS, state-of-the-art steam generation technology is part of the package, which means greater fuel efficiency, vastly reduced downtime, flexible scalability, safer steam equipment, and continuous performance optimization.
IoT Solution
Steam Goes Green
Put Your Steam In The Hands Of Experts
Steam-as-a-Service (SaaS) delivers state-of-the-art equipment, next-gen IoT capabilities, and onsite operation and maintenance for one monthly payment. You're guaranteed top performance and efficiency for your steam generation system with no risk.