Intermountain Healthcare Lowers Emissions with Miura Boilers
One of Intermountain Healthcare's premier facilities is The Orthopedic Specialty Hospital (TOSH), located in Murray, Utah. Already established as a leading facility nationwide in sports medicine, athletic training and physical therapy, TOSH recently became a leader in energy efficiency and reduced carbon footprint when it replaced its two 500-HP fire tube boilers with three 100-HP Miura LX Series boilers. Not only has this transition helped lower the facility's energy costs significantly (they've documented as much as 42 percent per month), but it has become part of a broader strategy by Intermountain to reduce its energy consumption and emissions at even more of its facilities.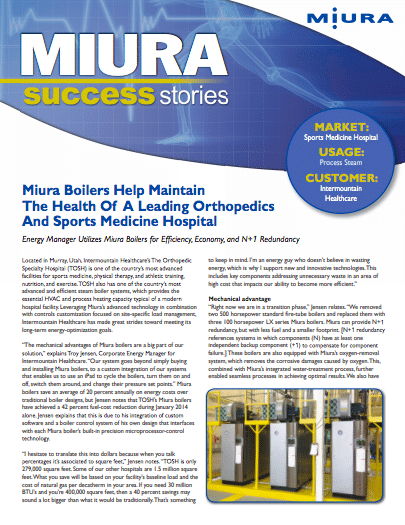 How can three 100-HP modular boilers match the demands of two 500-HP conventional boilers? Troy Jensen, Corporate Energy Manager for Intermountain Healthcare, attributes it in large part to the unique mechanical design of Miura boilers—from the vertical water tubes to their ability to be placed in series for on-demand output and N+1 redundancy.
"Instead of having a big 500 horsepower boiler idling away with another 500 in case it fails," Jensen says, "the Miuras enable us to have multiple 50, 100, 200 or 300 horsepower boilers that we can fire when we need to…Miura's staging capabilities work really well for our needs."
Jensen says he has also been able to enhance efficiency and reduce energy costs even further by integrating the company's own control systems with Miura's precision micro-control technology built into each unit.
"Our system goes beyond simply buying and installing Miura boilers," Jensen explains, "to a custom integration of our systems that enables us to use an iPad to cycle the boilers, turn them on and off, switch them around, and change their pressure set points."
Focused on the Environment
While Utah's emission standards are not as strict as other states, Intermountain Healthcare has chosen to go the extra mile, and working with Miura is part of their larger strategy to reduce energy output as well as their overall carbon footprint. Miura's unique design not only allows for on-demand steam generation (a 5-minute warmup compared to several hours for conventional boilers), but also shows reduced emissions of carbon dioxide (CO2), sulfur dioxide (SO2) and nitrogen oxides (Nx). "Miura has some great advantages when it comes to parts per million emissions and NOx and SOx," says Jensen. "Every time you replace a boiler you have to re-license here in Utah. But because Miura boilers produce fewer emissions you can actually apply for it instead under the R-3075 Reduction of Contaminants Clause."
Expanding their Reach
Intermountain Healthcare isn't stopping with their boiler upgrades at TOSH; they're taking it a step further, Jensen says, by installing Miura boilers at their much-larger LDS Hospital in Salt Lake City.
"We are removing two 1,100 horsepower fire-tube boilers," he explains, "and installing three dual-fuel Miura EX-300s in the plant with an additional 100 horsepower Miura in the other side of the hospital to split steam distribution. The integrated technology of these boilers and controls provide superior mechanical advantages, allowing an optimized environment."
To learn more about Miura boilers, contact us today at 1-855-817-3722 or locate a Miura rep in your area.
Have a look at more success stories here