Glen Raven Sees Efficiency Rates Above 80 Percent with Miura Boilers
Based in Glen Raven, NC, Glen Raven Technical Fabrics, LLC has been in business for nearly a century, creating performance textiles used to make awnings, sails, boat canopies, outdoor furniture, and other outdoor items. As such, the factory experiences widely fluctuating load demands for steam. When it came time to choose a new steam boiler system for their textile manufacturing operations, they went with Miura. Since replacing its two large conventional boilers with five Miura EX300 industrial steam boilers, the factory is now operating at efficiency rates between 80 and 87 percent, according to recently retired Plant Engineer Steve Holt.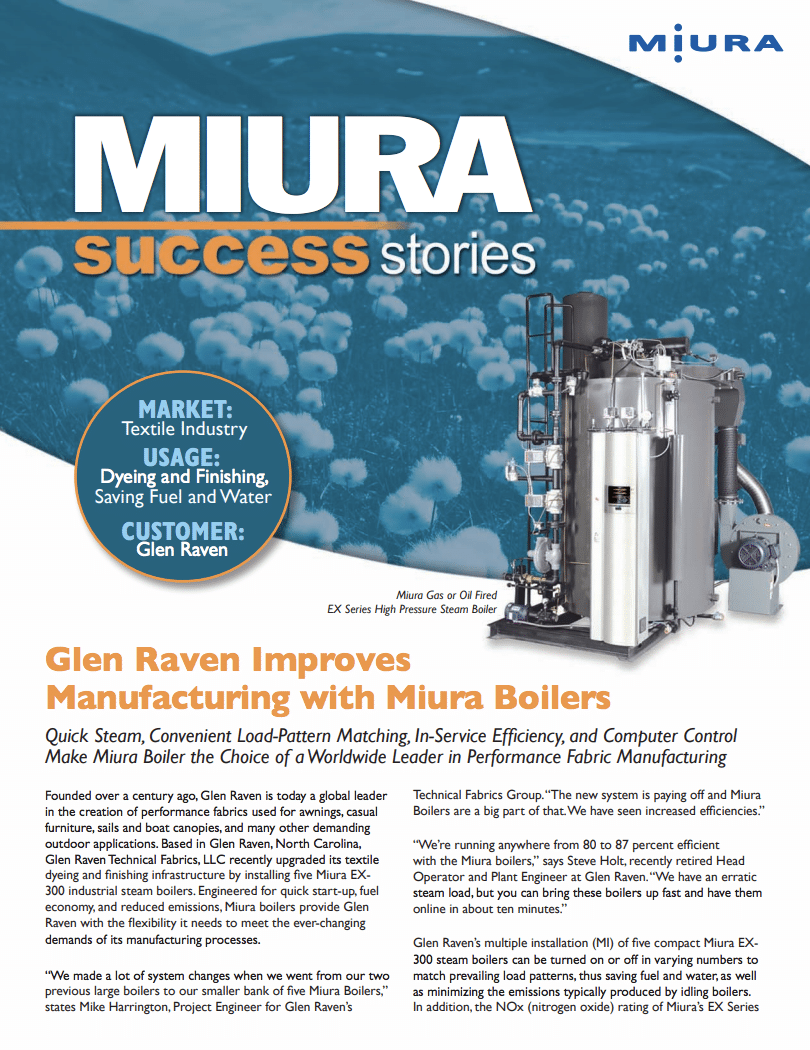 "We have an erratic steam load," Holt says, "but you can bring these boilers up fast and have them online in about ten minutes."
Improved Load Matching
The company's new Miura boilers are primarily used for the dyeing and finishing of the fabrics — a process that causes widely fluctuating load demands for steam. By configuring the five boilers in multiple installation (MI) format with an MI controller, the individual boilers can be switched on and off in sequence to accommodate changing demands.
"We have an erratic steam load," Holt says, "but you can bring these boilers up fast and have them online in about ten minutes."
Reduced Energy Costs
Conventional boilers can require an hour or more to produce full steam, resulting in higher consumption of fuel and water. Miura's compact, "once-through" design requires less water and can go from a cold start to full steam in as little as 5 minutes. This feature, combined with the MI format, results in far lower energy costs for Glen Raven — an estimated minimum savings of $200,000 per year.
Lower Maintenance
Glen Raven's infrastructure is such that the steam generated at the boiler plant must travel through pipes to the dye houses a quarter mile away. Even so, the Miura boilers' efficient, low-maintenance design is up to the challenge, and their onboard computerized self-diagnostic systems require less oversight and prevent serious malfunctions. "We don't have any problems with wet steam," says Holt. "Miura boilers are also safer and a lot easier to operate than the old boilers, with not near as much maintenance."
Reduced Emissions
Glen Raven's Miura boilers have also served to significantly reduce the factory's environmental footprint, as much by the boilers' efficient design as by their reduced idling time during periods of low demand. Not only do the boilers emit far less CO2 than their conventional counterparts, but they also emit minimized levels of harmful nitrogen oxides (NOx).
Between lower emissions, lower fuel consumption, better load matching, and better overall efficiency, Glen Raven's Project Engineer Mike Harrington is very positive about the plant's upgraded systems using Miura Boilers. "We have seen increased efficiencies," he says. "The new system is paying off and Miura Boilers are a big part of that."
To learn more about Miura boilers, contact us today at 1-855-817-3722 or locate a Miura rep in your area.
Have a look at more success stories here