Duke University Saves Energy with Miura Boilers
An increasing number of colleges and universities are making the commitment to move toward sustainability and a reduced carbon footprint. One of the more recent large campuses to make the leap is Duke University in Durham, NC, which is well-known for its medical campus, the Duke University Medical System. This university campus chose to install 15 Miura LX-series gas-fired steam boilers as part of a $25 million renovation of its East Campus Steam Plant.
At one time, Duke University relied almost entirely on the work of three large coal-fired boilers to supply steam and heat to campus buildings, releasing thousands of metric tons of carbon dioxide into the air each year. The installation of the new Miura boilers represents a reduced CO2 output of 30,000 metric tons from the days of reliance on coal.
"We have gone from producing 95 percent of our steam with coal to producing 85 percent of our steam with natural gas," explains Russell Thompson, director of utilities and engineering for Duke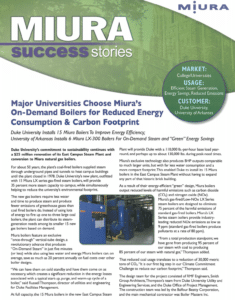 Facilities Management.
Deep Energy Savings
Duke University selected Miura boilers as part of its overhaul plan due to the boilers' unique "once-through" design. This design enables the boilers to produce steam from a cold start in approximately 5 minutes, as opposed to hours of warm-up time required by conventional boilers. This reduces energy consumption in two important ways:
The amount of gas required to heat the water in the boilers is greatly reduced thanks to Miura's "steam-on-demand" design. By placing the boilers in series, the individual boilers themselves can be fired up or shut down in accordance with fluctuating demand. "We can have them on cold standby and have them come on as necessary," explains Thompson, "which creates a significant reduction in the energy losses associated with a typical start-up, purge, and warm-up of a [conventional] boiler."
Space-Saving Design
Miura boilers not only save energy; they also conserve water. Their compact design allows them to produce the same BHP outputs as much larger comparable units, using far less water while maximizing the use of space. As a result, Duke University was able to fit its 15 Miura boilers easily within the historic East Campus Steam Plant without the need for expansion.
Reduced Harmful Emissions
If switching from coal to natural gas for steam heat significantly reduced Duke's carbon footprint, choosing Miura over other conventional natural gas boilers reduces these and other harmful emissions by an additional 75 percent. Miura's unique environmentally-friendly design yields far less CO2 than their comparable counterparts while also limiting the output of harmful Nitrogen Oxides (NOx). The typical NOx output of a Miura LX-series steam boiler is about 9 ppm, compared to 80 ppm of standard gas-fired boilers.
Reaping the Benefits
As Duke University honors its commitment to improved environmental sustainability, it is reaping ongoing dividends in the form of higher output and lower costs. The 15 new Miura boilers can produce 35 percent more steam capacity to campus than the old coal boilers could, while saving the school an average of 20 percent or more on energy bills.
To learn more about Miura boilers, contact us today at 1-855-817-3722 or locate a Miura rep in your area.