Choosing a Steam Boiler for Your Dairy Processing Plant
The dairy processing industry is always looking for ways to maximize efficiency, and a reliable, efficient modular steam boiler can be a great asset for dairy farmers looking to streamline and save money.
In the dairy industry, an efficient steam boiler is almost as necessary to the dairy production process as milking the cows themselves. Dairy processors understand that steam boilers are critical milk processing equipment that make it possible to turn raw milk into high-quality dairy products that comply with public health requirements and are safe for human consumption.
That's why choosing a good dairy steam boiler is one of the most important processing equipment decisions a dairy plant must make.
How Steam Is Used in Dairy Operations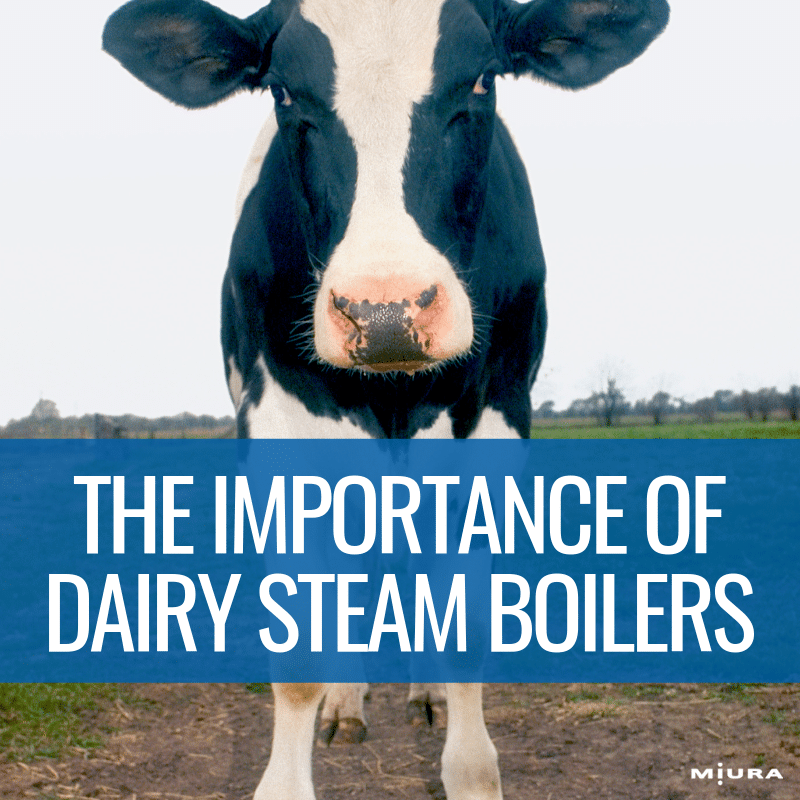 Before being bottled for drinking — or turned into other dairy products like cheese, butter, ice cream, yogurt, infant formula, milk powder, casein, or whey powder — raw milk must undergo a temporary heat treatment that kills off pathogens and other impurities.
Typically, this treatment for dairy products occurs at a milk processing plant through one of the following processes:
Pasteurization, which involves raising the temperature of the raw material to just under 212 degrees Fahrenheit to neutralize bacteria that can cause disease or spoilage.
Ultra-high temperature processing (UHT), which raises the temperature of the raw milk product above 275 degrees Fahrenheit for 3-5 seconds to kill bacterial spores.
These processes help ensure that the final product offers a safe drinking experience for consumers. It also helps extend the shelf life of milk products.
A dairy steam boiler is a great way to create the necessary heat for milk processing because steam can be directed and applied for specific time frames to ensure proper and even heating of the milk. Steam power is also crucial for sterilizing surfaces and equipment to prevent the growth of harmful bacteria, as well as heating the dairy plant itself and carrying out other tasks food processors need to accomplish on a daily basis.
Choosing a Steam Boiler for Your Dairy Operation
While each facility has distinct needs, here is a look at a few factors businesses in the dairy processing industry should consider when choosing a dairy steam boiler.
1. Meet Fluctuating Load Demands With Ease
Few dairy processors are running 24/7 or have the same steam load demands at all times. That's why it's critical for a dairy boiler to keep up with the fluctuating needs and be able to be shut off at the end of the day and turned on the next morning without much hassle.
A modular boiler system is ideal for fluctuating load demands. From a cold startup, they can reach peak steam generating capacity in less than five minutes. When boilers can be turned on and off based on
Dairy plants that need steam at a precise pressure and temperature won't have to sit around waiting for their boiler to get up to speed, nor will they have to leave their boiler running idle all night, wasting fuel and money.
2. Save Money — Pay Attention to Efficiency
When it comes to selling dairy products, it's important to keep prices as low as possible, and that means trying to keep milk production costs down.
Miura modular water tube boilers are more cost- and fuel-efficient than traditional fire tube boilers, in part because they can be turned off when they're not in use and use fewer resources. They can also run on multiple types of fuel, allowing users to seamlessly switch back and forth between fuels based on what energy source is cheaper.
Companies that have switched to Miura modular water tube boilers report 20% or more savings on energy costs, which over an extended period of time has a huge effect on the bottom line.
3. Maximize Space with Smaller Modular Boilers
Boilers are one of the few places where smaller is undoubtedly better. With smaller boilers, dairy farmers and dairy processing plants don't have to dedicate as much space to their boiler room, leaving them more space for other pieces of equipment that can help them in their operations.
This is another area where Miura is a good fit, as our LX series of boilers have roughly 50% the footprint of conventional boilers, making them small enough to fit through a doorway. Even the Miura EX model is still 33% smaller than the average fire tube boiler.
4. Make a Reliable Investment
Dairy plants would not get much work done without a functioning boiler to facilitate the pasteurization process and ensure proper food safety and product quality. Thus, it is vital for every dairy to have a boiler they can trust to run safely, efficiently, and reliably for years to come.
At Miura, for instance, we offer a seven-year pressure vessel warranty on all of our boilers, so you can trust that we'll take care of the problem if something goes wrong. We also have a remote monitoring system called Miura Online Maintenance (MOM) that is standard on every boiler. MOM allows us to detect minor issues before they become bigger problems that reduce efficiency or require extensive repairs that shut down the boiler for an extended period of time. Offsite technicians are also able to look up information about the boiler and troubleshoot with those onsite to find a quick solution to any problem that may arise, ensuring your dairy gets its boiler up and running as soon as possible.
5. Stay Ahead of Environmental Requirements
More and more cities and states are instituting emission restrictions, and businesses in every industry — not just the food industry — must be pro-active about satisfying these restrictions. Fortunately, Miura is ahead of the curve. Our boilers can lower emissions of harmful substances like NOx to as little as 9 ppm. Miura boilers were designed with the environment in mind, and so they can help any dairy comply with any current or future emission restrictions.
Advantages of Miura Boilers for Dairy Operations
A growing number of dairy plants, both large and small, are turning to Miura's compact, water tube boiler systems to facilitate their pasteurization process and save money in the process. Let's recap a few of the key advantages that an industrial boiler from Miura brings to dairies:
Speedy startup and shutdown. Miura boilers go from a cold start to producing steam in as little as 5 minutes, which means dairy processing faclilities can power them up and down without much downtime waiting for heating up or cool down.
Modular configurations to accommodate fluctuating demands. In addition to quick startups, individual Miura boilers can be configured modularly in series to power up and down as needed to meet the fluctuating demands of dairy processing.
Compact, space-saving design. Miura boilers have a footprint that is between 33 and 50 percent smaller than more conventional boilers, which means they can fit through smaller doors and occupy less square footage in your dairy processing plant.
Improved efficiency. Quick startup times and modular designs mean Miura boilers can produce steam quickly for pasteurization and sterilization needs — and with less fuel and water waste to boot. Many companies, in the food industry and beyond, report an average of 20 percent savings or greater on their energy bills.
Reliability and lower maintenance. Miura boilers come equipped with powerful monitoring and self-diagnostic features that anticipate and pinpoint problems before they arise, which helps dairy processors avoid expensive shutdowns and repairs.
Food processing companies all over the United States have reaped the benefits of using Miura boilers. Your choice of steam boiler for your dairy processing plant could have a significant impact on your productivity and your bottom line.
To learn more about Miura boilers, contact us today at 1-855-817-3722 or locate a Miura rep in your area.