Miura America Hosts Vaccine Clinic at Rockmart Facility
This article was originally published in the Marietta Daily Journal on May 3, 2021. 
As the effort continues to get more and more people vaccinated for COVID-19, the Development Authority of Polk County and Polk Medical Center are joining forces to try and make getting the vaccine convenient.
The two entities partnered with Miura America in Rockmart on Friday to hold an on-site vaccine clinic to give the first dose of the Pfizer vaccine to any employee who wanted it. The shots were administered by nurses from the local hospital, who will return in three weeks — May 21 — to give the second dose to the ones who came in last week.
"We have a family environment here and do a lot for the employees to improve their quality of life and productivity. We hope that this can be an incentive for getting the vaccine and not have to wear a facemask when they are on the floor," said Pam Baskette, human resources division manager at Miura America.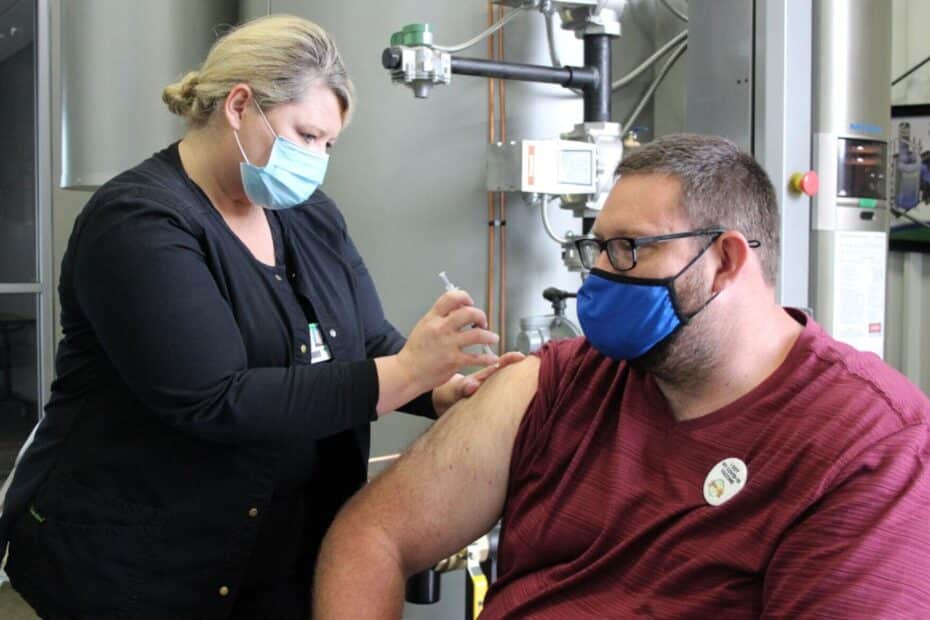 Of course, that can only happen if enough employees are vaccinated. And with warmer weather coming and many of the employees on the production floor having to wear layers of protective equipment, Baskette said not having to wear a facemask on top of that would be beneficial.
April Lucas, director of existing industries for the development authority, said the nurses at Polk Medical Center and Floyd Medical Center Public Relations Manager Dan Bevels were instrumental in helping her get the initiative of having on-site vaccine clinics at some of the county's industries.
"This began in a conversation led by Dan Bevels with some county leaders to figure out what Polk Medical can do to better support Polk County," Lucas said. "Our biggest issue from the side of the development authority was that I thought it might be possible that workers in our industries would benefit from a vaccination clinic that was more accessible to them and their work schedules."
A previous clinic at the HON Company in Cedartown had 104 people get the first dose. Nurses will be on site again Thursday to give the second dose.
Anita Jackson, Director of Nursing for Polk Medical Center, said they are trying to do what they can to make the vaccine available to everyone.
"There is a bit of a lull now that it's been a while since we've started giving out the vaccine," Jackson said. "You had those who were excited to get it go out and get it as soon as they could. Now you have some who are still deciding on whether to get it or just don't want it. The thing is to make it as convenient for them to get it as possible."
Jackson said the hospital has administered more than 2,000 doses of the Pfizer vaccine, both at the hospital and at satellite vaccine clinics like the one at Miura.
Polk Medical Center continues to offer regular clinics at the hospital every Tuesday and Friday from 8:30-10:30 a.m. Those who want to come during that time need to call 770-749-4211 to schedule an appointment. The vaccine is free.
More than 18,000 doses of the three FDA sanctioned vaccines have been administered to Polk County residents, according to the Georgia Department of Public Health. More than 10,000 have received at least one dose of either Pfizer or Moderna.
More than 8,000 residents are fully vaccinated. That is just 19% of the county's population.