5 Ways Modular Steam Boilers Contribute to Green Initiatives
In today's society, initiatives for protecting the planet are a continuous topic of discussion. In these discussions, local and national agencies are looking to enact policies to protect the environment for future generations. The regulation levels differ from region to region, so it is important to work with local experts to find the best ways to comply.
One of the green initiatives that choosing a Miura steam system may help with is for organizations looking to achieve LEED (Leadership in Energy and Environmental Design) certification. LEED is an internationally recognized green building certification system by the U.S. Green Building Council. It provides third-party verification to buildings or communities designed and built using strategies to improve energy savings, water efficiency, CO2 emissions reduction, improved indoor environmental quality, and stewardship of resources and sensitivity to their impacts.
Whether your organization is looking to achieve LEED, meet local emissions regulations, or improve overall corporate sustainability, modular, on-demand steam solutions can help you get there. Below, we listed five ways Miura boilers meet sustainability standards and how choosing a system that respects the environment benefits your steam generation process.
1. Innovation and Energy Savings
Miura boiler systems feature an innovative on-demand operation due to the quick start-up ability. Miura boilers monitor the facility's set steam pressure and create steam only if a pressure drop is detected, which reduces the need to "blow-off" excess steam created from the rigid operation of traditional boilers. When the facility is not requiring steam, the boiler automatically shifts into standby mode. It drastically reduces the energy and resources consumed compared to putting the boiler into idle mode that continues to heat a large amount of water in the vessel.
2. Water Efficiency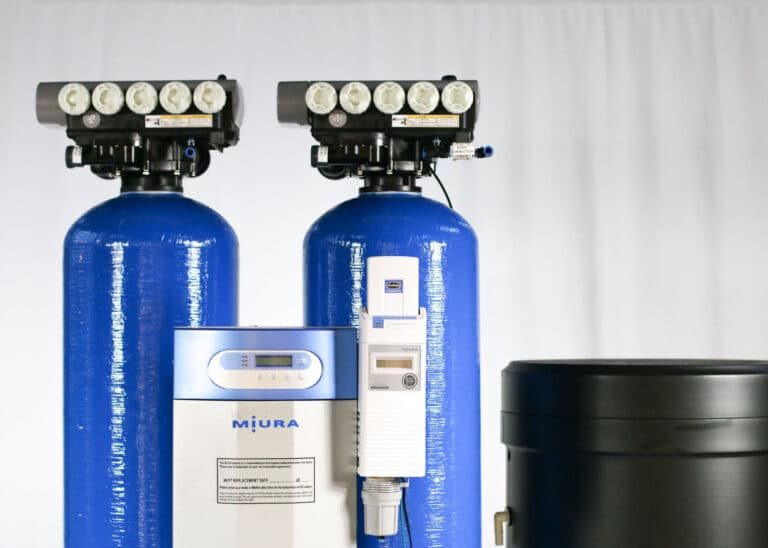 Miura's complete steam solution integrates smart water technologies like the Colormetry Automatic Hardness Detection Monitor, MW-Series Water Softener Dual Tank back-up design, and the WP-2 Water Treatment Communication Hub that automates boiler blowdown based on the actual water quality reducing wasteful blowdowns.
Facilities achieve water use reduction with the low-water content pressure vessel design that decreases the amount of water in the boiler to one-tenth of the traditional boiler requirement. By concentrating the water content, Miura boilers conserve water with real-time meter monitoring and automatic system reaction.
3. Emissions Reduction
Being made "low NOx out of the box," Miura boilers are ideal for projects looking to reduce emissions. The once-through water tube design means that the flame heating the water into steam travels about 3-5 feet. Due to this short flame distance, Miura boilers contain a mesh burner that spreads the flame out vertically and can lower the temperature when compared to traditional boilers that usually have the flame bouncing back 3-4 times. The reduction in flame temp has a
direct correlation with the amount of NOx created. Miura boilers come standard at 20 ppm and can get as low as 9 ppm NOx creation – a standard that will meet local regulations.
4. Improved Indoor Environmental Quality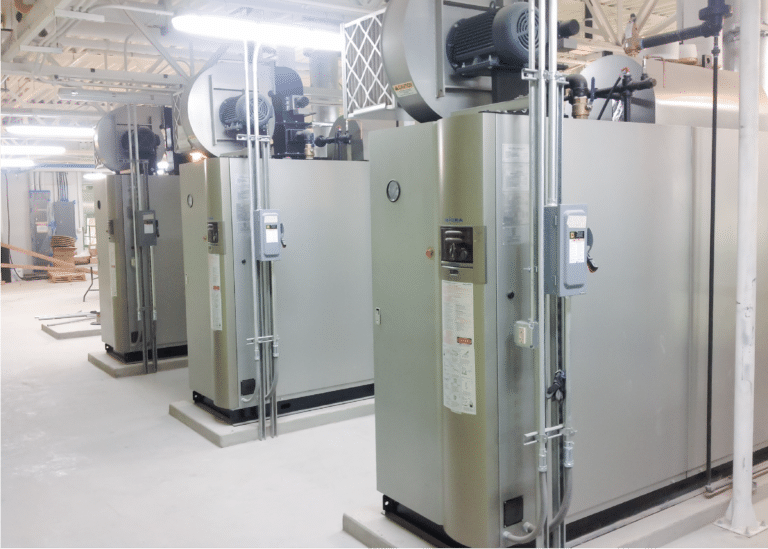 Miura boilers have a compact footprint that is generally about half the size of a traditional boiler, making them ideal for design flexibility and greater open space. Miura's low-water content pressure vessel features superior insulation to conserve heat energy and reduce heat loss from heat radiation into the boiler room. This reduces the need for boiler room cooling and creates a more comfortable environment in the boiler room.
Safety is another staple of Miura boilers. Anytime you have a large pressurized vessel increases the severity of a possible accident or failure. Miura boilers avert this risk by breaking up the full pressure into smaller water tubes within the boiler. If an accident or failure were to occur, the steam leak would blow off inside the boiler and not create an outward explosion.
5. Stewardship of Resources and Sensitivity to their Impact
Miura Global is dedicated to the conservation of water, energy, and the environment. With those principles in mind, our products directly reflect that dedication. The on-demand operation saves wasted energy by placing the boilers on standby when not in use. The proactive data-based water treatment ensures that water is conserved. Our low NOx dedication, achieved by our low-temperature burner, comes standard. Our commitment to conserving resources or using the resources to their full potential is evident in our standard boiler economizer that recaptures heat from the exhaust and reusing it to improve the boiler efficiency.
To see what Miura steam solutions best match your steam generation needs while helping you achieve green initiatives, talk with a local Miura boiler expert.